3 Ways Travel Will Help You Overcome A Fear Of Failure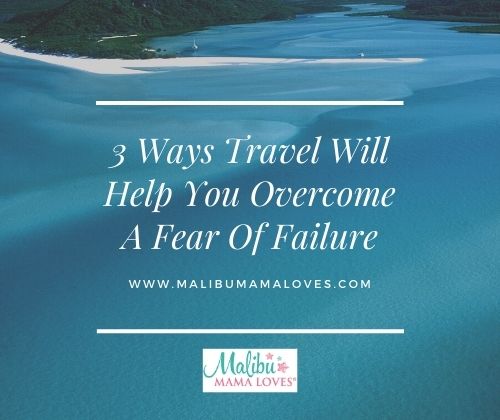 Ever really want something but are too scared to go after it thinking you will just mess it up anyway? Well you are not alone on this one!!
We have been talking a lot lately about the fear of failure. Many, many people suffer from this fear on various different levels. And that is ok, it is human actually!!
There are 4 root causes to feeling a fear of failure – childhood trauma, negative mindset, perfectionism, and false self-confidence. I discuss them more in depth in my post on What is Fear Of Failure, click to read. I bet you will identify with one.
Next we talked about how to overcome your fear of failure where I shared 6 simple steps to overcome your fear of failure, click to read it. These are things you can start doing today to help you make better choices tomorrow.
What I did not add to that post is how beneficial travel is to overcoming your fear of failure. So much so that I thought travel deserved its whole own post!!
Travel has so many benefits, I've written about this before. But while we are on the topic of overcoming our fear of failure, I'd like to point out 3 ways in which travel really does help you get things done.
3 Ways Travel Will Help You Overcome A Fear Of Failure
Travel opens up your brain. Travel sets you up to have to face your fear no matter what it is, just by it's nature. When you stay home, you often operate on auto-pilot staying within your daily habits. By getting outside of that, our brains become more flexible and look for alternative options to the many obstacles that travel puts in our path. We don't know what to expect, therefor we will have to face and handle anything… even failure.
Travel takes us outside our comfort zone. Once you can detach from your regular routine you often try things you never would, you face things you didn't think you could and you accomplish things you should. Take that fear of failure!
Travel offers rare opportunities – to become a different person, to try different things, and to get a fantastic confidence boost that we otherwise wouldn't get. You will have to make choices a bit quicker when traveling which helps you do what you are afraid off.
When you are in a new place and no one knows you or you are with trusted loved ones, you can really dig deep within and face those fears that have been trying to convince you that you will fail, you can kick them in the gut and let them go. Because no matter what travel throws at you, you will find your way home with some of the best memories and experiences to help you grow, awaken by facing your fear of failure!
Cheers!
Malibu Mama Loves Xx