2015 Winter Resort Wear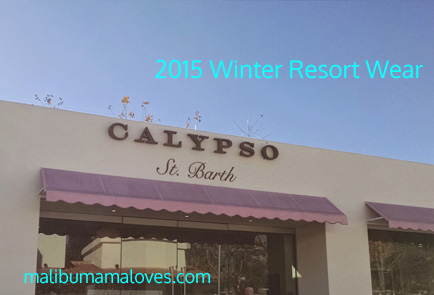 A tropical holiday has been on my mind for the last couple of weeks. Looking good helps you to feel good so I have been checking out what looks are really trending right now for 2015 winter resort wear. Calypso St. Barth is one of my all-time favorite lines of luxury resort wear and lucky for me they have a store right here in Malibu!
So I thought it would be fun to stop into Calypso St. Barth and get the inside scoop from the leading authority on resort wear! The stylists in this store are amazing and were kind enough to open their doors for us to give us a peak at some really hot looks for 2015 winter resort wear!
I personally love the crochet pieces paired with silks and light cottons – okay, I'm in love with those white jeans too… The Calypso Stylists told me that fringe is making a big comeback this season. Here, check it out:
The Calypso line of clothing is not only gorgeous, but comfortable too. Perfect for us moms who like to look good while traveling with our families! I really like the versatility of the pieces that the Calypso stylist picked to share with us. These outfits are easily able to do go from day wear to night wear with just a few accessory changes.
Thanks to Calypso St. Barth's in Malibu for sharing what is popular for 2015 Winter Resort Wear with us, I can't wait to see the new merchandise arriving soon!
My only question is, can I fit EVERYTHING from this store into my luggage?!
Malibu Mama Loves Xx
PS – Friends, be sure to check back here for the Spring 2015 line from the leaders in resort wear at Calypso St. Barth! #CalypsoInspired