4 Tips For Every Conscious Pet Parent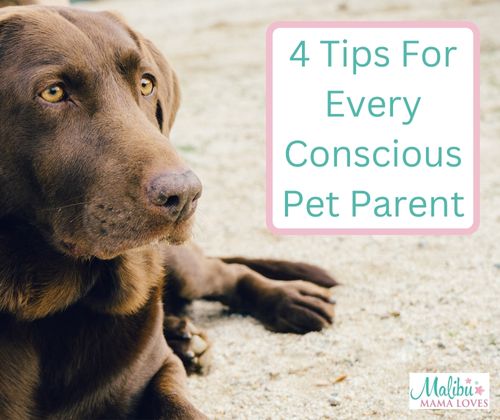 They may not be our flesh and blood, but pets certainly are beloved like they are our perfect little children! That's why caring for them is every bit as important as caring for yourself and other humans. Just as each child does, each pet presents a unique set of challenges for their pet parent to go through.
Bringing home the new puppy or new pet is one of the most exciting days ever. Along with that comes a lot of questions too – just like any new parent has.
What do I feed them?
Where do they sleep?
How do I potty train them?
What toys will they like?
How do I get enough exercise for them?
These are just a few questions running around your mind during this time. Thankfully, with a few great strategies in place, you will have the happiest pet around!
4 Tips For Every Conscious Pet Parent
Food –I talk a lot about intuitive eating and that we really are what we eat. Our pets are no exception to this. Just as the fuel that we put into our cars and ourselves will determine how far we can go and how well we will perform, the fuel/food we put into our pets will govern the same for them. Therefor feeding them generic dog food that has become completely devoid of any nutrition is a very bad idea. Cooking for them is ideal, but not everyone has this ability. I have found K9-Rx to be the best in dog food nutrition. They have taken years of dog physiology research to create foods that are backed by science and filled with flavor. You can read more about them here or shop their stuff here. Everyone I know that has tried this for their pets has been astounded by how much their pets love it and how healthy their pets stay because of it – they have done the research for us and provide quality foods for our pets using the best sustainable, whole (meaning no antibiotics or fillers) ingredients available.
Exercise – again, super important. If we don't use our bodies, they will not function right – our pets are the same!! Your pet is your best new workout buddy!! Yet we don't always feel like getting up off the couch so try setting some goals for your pet and yourself. Get fitness trackers for you and your pet and have fun reaching realistic goals checking out the area around you and having fun while you exercise! Creating a schedule to keep them on is important for their health too. Pets are instinctual so creating and sticking to a schedule is important for them.
Organize pet playdates! Find a pet park near you, and have fun getting exercise, fresh air and giving your pet some social time. You can find meet-up groups online as well and either go to or organize one – there are even apps designed to help you find new pet friends! Not only will your pet get some great social time in, it is also an opportunity for you to meet some new people and socialize as well.
Enrich their environment. Keep pets healthy and interested by creating a nice, safe space for them to play, learn and grow in. A fun tip for pets being left for a longer period of time is to freeze some peanut butter inside one of their favorite toys – don't be surprised if they spend most of the day happily trying to lick it out. There are loads of stimulating toys you can keep around so they never get bored enough to destroy your things!!
Lastly, and most importantly, love and show kindness to your pets. They are your best friends and will do anything to protect you. So be patient and loving with them. That, paired with these strategies and healthy dog food like K9-Rx and you will be the happiest pet parent in the world!
Cheers!
Malibu Mama Loves Xx