5 Conscious Foods to Say Yes To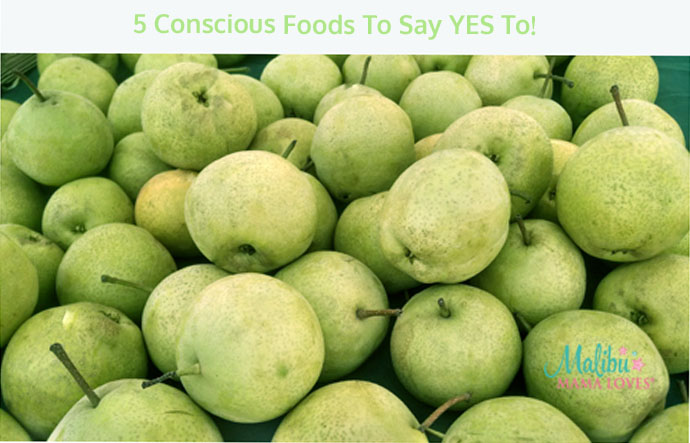 My awakening to conscious living and ultimately the completely different, healthy lifestyle I am living now, began with food.
As many of you already know, it was when I got pregnant that I really started taking a good look into my health and what was around me. As I learned about how our bodies work and what foods are the best for my body, I became aware of how disconnected we have become from our food, just trusting whatever was on the grocery store shelves.
Since then I have learned so much. But I feel like the majority of food articles out there are telling us to stay away from stuff. So instead, I want to talk about all of the amazing, conscious foods you can have!
I do not want to overwhelm you though, because there is so much out there that is healthy, sustainable and delicious! So we will start with 5 conscious foods to say yes to. And who knows – perhaps next week I will share 5 more…
~ Ok, I totally will! ~  😉
5 Conscious Foods to Say Yes to
Avocados. Growing up on the North East Coast, I did not eat too many avocados. Maybe sometimes in a salad during summer if the market had any… But when I discovered the power that these incredible fruits pack (especially for pregnant women and young children), I made the effort to work them in to our diets more often. They are filled with healthy fats that help our bodies produce the necessary hormones for optimum functioning. Eating avocados will help you sleep better, give you fantastic skin, healthy hair and nails, supports brain health and is good for your heart.
Organic Apples. An apple a day keeps the doctor away… where have I heard that before? It is true though. Apples, organic ones because the non-organic ones now contain cyanide, are one of nature's many gifts to us. They taste delicious, are easily digestible for our human bodies and keep our systems running just right.
Spinach. I LOVE spinach, always have, always will. My mother grows it and has for many years now – and her fresh salads are my fave. Not only is spinach packed with incredible healing powers and benefits, but there are so many delicious ways to enjoy it. The health benefits of spinach include diabetes management, cancer prevention, asthma prevention, lowering blood pressure, bone health, helps with regularity and gives healthy hair, skin and nails.
Garlic. I put garlic into almost everything I cook. It adds a great flavor and the health benefits are huge. Garlic helps fight the common colds and flus, reduces blood pressure, improves cholesterol, may help prevent Alzheimer's and dementia, helps our bodies to detoxify, improves bone health and so much more – all while tasting delicious and helping you to live longer!
Wine. Up to 2 glasses of wine a night is actually healthy to have, recommends that American Heart Association and may help you to live longer. Check out these two posts on Brilliant Wine & 5 Interesting Wine Facts You Never Knew.
Which one is your favorite conscious food and how do you like to prepare it?
Malibu Mama Loves Xx