5 Tips For Your Next Move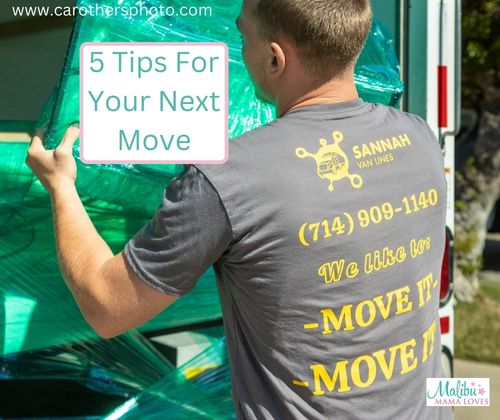 Packing up and moving across town or across the country can be a daunting task. One that many of us, myself included, procrastinate until the last possible second!!
At this point in my life, I have made many moves – across town, across state, and even across the country. Moving is stressful, there is no other way to look at it. However, it is also essential in life and something almost all of us go through at some point.
Thankfully, since many of us have done it already, there are loads of tips out there to help make your next move smooth, easy and have you relaxing in your new place before you know it!
5 Tips For Your Next Move
Be realistic and understanding with yourself. It's a fact that moving is emotionally and physically taxing, for so many reasons. It is bittersweet. So be realistic with yourself with what needs to be done and allow room for yourself to process this move and feel the emotions you need to feel. Creating a moving checklist will help keep you organized and feel more in control. I love this one from RealSimple.com. You can follow this one or create your own. Make sure you add in there self-care time to relieve the stress of this project!
Purge! This is a great time to purge all of the things you have been holding onto that you don't really need or never use. I love to play "Keep it or chuck it" with the kids and try to make light of it. Go through clothes, books, closets, games, all the clutter and see how much you can clear out.
Hire Movers – don't be like my first move where I thought I could do it on my own. It was an exhausting nightmare. The best company I have found that is in most states is Sannah Van Lines. They pack, they store, they move, they unpack – I've never had anything broken with them (I have with other companies) AND they have great customer service. They did my last move for me and I will never move again without them. Sannah Van Lines took the majority of the stress out of the move for me and I am so appreciative of them, I have to share them with you!! Their staff is friendly and knowledgeable and I felt completely comfortable having them in my home. If you are moving, check with these guys first to see if they are available, they are the best! Click here to contact them now.
Schedule the utilities in advance. Another mistake I have made! Don't forget when you are turning off your old utilities to schedule when to start your new ones, so you are not left offline and in the dark!!!
Keep your essentials with you. Pack a bag with clothes for a couple of days and all of your essentials so when you arrive you have your comforts easily accessible. Trust me on this one, you will be glad you did! The first few days after a move are spent trying to find stuff and get it put away, you don't want to have to look for your essentials!
Focus on all of the good coming your way, stay organized and hire Sannah Van Lines for the best possible moving experience! Your future is waiting for you!
Cheers!
Malibu Mama Loves Xx