8 Conscious Tips To Save Home Energy This Spring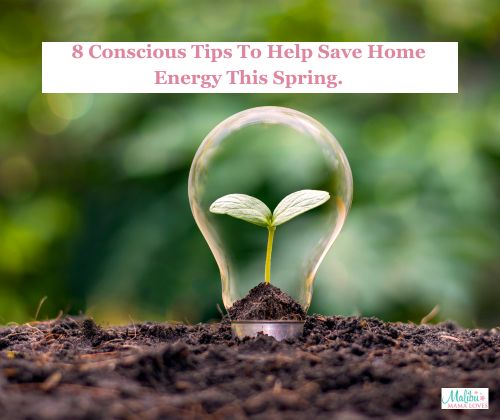 Running your own home comes with a long, long list of things you need to be conscious of. As we are preparing for spring and planning our spring cleaning sessions, I want to bring attention to your home energy. As warmer temperatures arrive, this is the perfect time to find new ways to save energy and a little money too!
Keep reading to find a few simple things you can do today to improve the energy efficiency and comfort of your own home.
8 Conscious Tips To Save Home Energy
Install proper window treatments. There are some amazing window blinds and curtains that are energy efficient and block temperature changes. I have these blinds in all my windows:
Discover your homes total energy usage. Knowledge is power, literally!! Take some time to learn how much energy your home uses, where it is coming from and figure out solutions to lower your energy consumption. I love this energy calculator – SaveOnEnergy usage calculator that makes is super easy to estimate how much electricity is being used each month and which appliances and devices are consuming the most energy in your home.
Switch the direction of your ceiling fan. Sounds simply, but unless you know to do this, you don't!! In winter, your ceiling fans should rotate clockwise on low to send the rising warm air around the room. In spring and summer, your fan should turn counterclockwise to force the cold air down into the room, keeping you cooler.
Service your air conditioner or cooling units. Air conditioners are generally responsible for more than 12% of the energy bill in the average home. By cleaning it and keeping it working at optimal levels, you can save quite a bit of energy.
Cook outside more often! Now that the weather is nice, keep the ovens off and the heat outside at the grill!!
Open windows and doors on breezy days. Use nature to help cool your home during the spring. The fresh air is so good!
Set your thermostat. Note times you are not home and set your thermostat accordingly. This can help save energy tremendously.
Seal your ducts and caulk any leaks. This alone can reduce your consumption tremendously. Air loss through ducts and leaks can amount to more than 40% of energy consumption so taking some time to block them is well worth it.
What are your great energy saving tips for spring? Please share them with us in the comments section, sharing is caring! We all need eachother.
Cheers!
Malibu Mama Loves Xx