8 Reasons To Travel With Your Children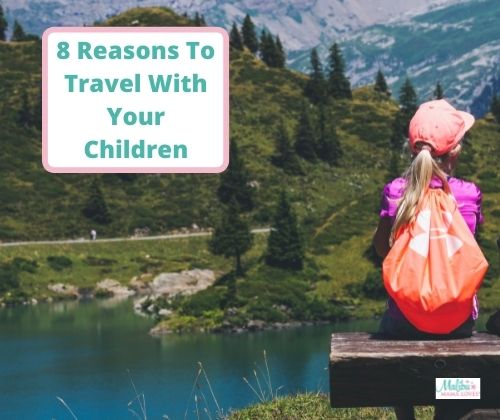 It's been a hot minute since I have written about the benefits of family travel – travel with your children. There are so many!!!! So I want to take some time now to refresh our memories on why it is oh so good (even though it can be challenging) to travel with your children!
Having been housebound for nearly a year on quarantine, many are hesitant to get back out there and start exploring again. And honestly, yes, everything has changed. We need to be safe and more careful now. And that is ok. That is even better, safer.
So if you need some motivation to get back out there post quarantine, here are 8 reasons to travel with your children.
8 Reasons To Travel With Your Children
Travel offers invaluable learning opportunities. There is no better way of learning about history, geography, math and languages than by traveling. Getting out there and seeing things, using theories, hearing different ways of speaking will open up so many ways for growth for all of us.
Travel presents new opportunities. Anything can happen when you are on vacation… let your thoughts run wild.
Travel inspires curiosity. We see, hear, taste, smell so many different things when traveling, it allows our curiosity to be piqued.
Travel builds self-confidence and self-esteem. Getting out there and seeing that you have what it takes to roll with all of the punches life throws at us builds so much confidence and self-esteem. We see how strong we really are, and so to do the kids.
Travel teaches adaptability. You never know what you are going to get, you need to be able to adapt to any situation you find yourself in. Travel helps give kids the opportunity to develop these skills.
Travel is a break from technology. It gives the kids something exciting to think about and do versus playing video games all day!
Travel refreshes you and helps you focus better when you get back. Taking a break from the norm helps kids reset and be in more control after.
Travel provides responsibilities. Having kids help make the transportation schedules and choosing what activities to do help them share in responsibilities.
Travel opens you mind. You know that feeling of wonder when you are in some new land? Kids feel it too, and it opens their minds right up to anything that is possible.
Travel breeds gratitude. Seeing new places helps you appreciate what you have at home and what you don't have. It works both ways.
Even if you are just taking a day trip to the next town over, travel with you children will reap all of these benefits!
So what are you waiting for? Get up, get out and go explore today!
Malibu Mama Loves Xx