A Conscious Beauty Review On Esthetic Couture
You know I am always on the lookout for the next greatest conscious beauty hack that will make our lives easier and be all around beneficial. My schedule may be overflowing, but I still like to look and feel my best, right?! I'm so glad I cound Esthetic Couture…
One thing I can never live without but does take a few minutes everyday is mascara. I've reviewed other mascaras before, I've admitted I'm never seen without it on (it's just my one thing!!) but honestly, it has become a major pain in the butt. So I started looking for other options.
I found something called Hybrid Lash Extensions and a place called Esthetic Couture that is licensed to apply them. I was curious about lash extensions, not only would this save me time in the morning, I would also save money in not needing to buy mascara anymore – better for earth too!! ????
What Are Hybrid Lash Extensions With Esthetic Couture?
Hybrid Lash Extensions have been referred to as the Celebrity Lash Service because it looks so natural, is long lasting and good for the environment.
In a Hybrid Lash Extension session, Esthetic Couture will attach one lash extension to one natural lash all the way across. The lash extension is the right color to blend in will your natural lashes and leaves them look fuller, longer, lusher and just incredible. Every day, all day, from when you open your eyes to when you close.
How cool is that?
So I made an appointment with Serena at Esthetic Couture in Thousand Oaks, CA. I arrived a few minutes early and Serena was really nice. I had never done anything like this so she took the time to explain the process to me.
My Hybrid Lash Extension Experience
This is where Serena works her magic. It is very cozy and inviting. She explained that the whole process would take about 2 hours. She would be putting eyelash holders along the bottom of my eye and working on the top row. Because she is attaching a lash to each of my lashes, it is a long process.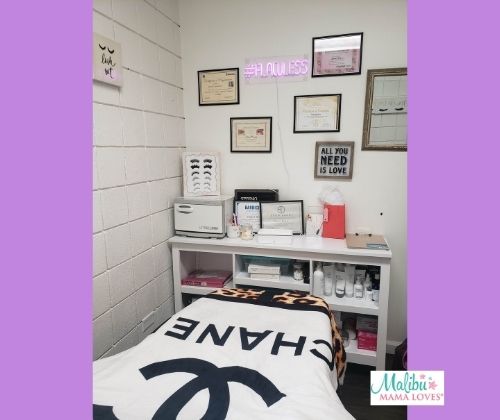 The bed was super comfortable and the time passed quickly with light conversation.
I will say it was uncomfortable at first when she attaches the gel pads, but it passes in a few minutes as you adjust to. As she attached the lashes I experienced a slightly itchy feeling in my eyelid, but it was tolerable and not a problem.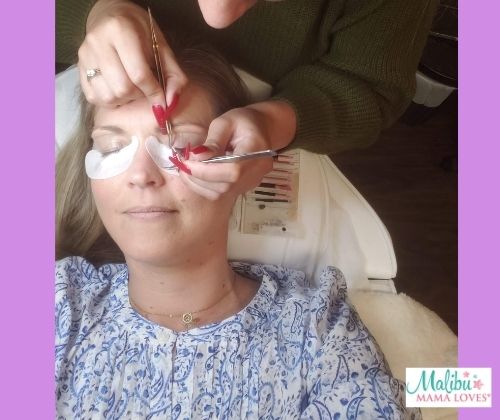 The passed and when she finished and I looked in the mirror….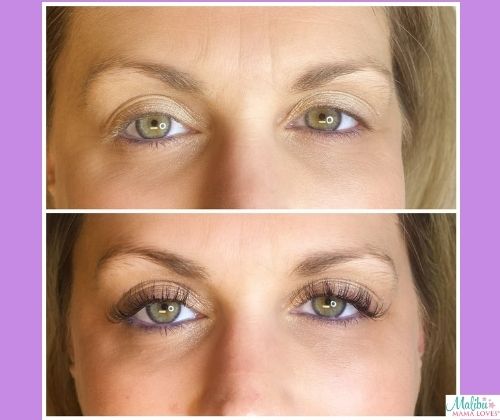 I was hooked!!! Addicted! Obsessed!!
Serena gave me a brush and instructions on how to brush them and blow dry them after a shower. And I love them!!! They not only changed the look of my eyes, but they save me so much time.
And now that I have the full set in, I only have to do partial fill-ins every 3-4 weeks that takes about 30 minutes.
I have to tell you, I love them, I highly recommend them, you have to call Esthetic Couture click here to book with her, call 805-940-5111 or email her at [email protected] – she makes it fun and does an incredible job – don't you think?! ????
Cheers!
Malibu Mama Loves Xx