Acquapura Personal Water Filter Review
Clean water is so much more important than most people realize.
The majority of us have no idea what is in the water right there in our sinks, let alone out in the wild.
Thankfully, there are ways to ensure you are getting the cleanest possible drink. The Acquapura Personal Water Filter enables people to drink water safely from the majority of water sources. This personal water filter is designed to provide safe, clean water whenever you need it.
NuevoVita sent me this product in exchange for my honest review. These are my thoughts.
You can purchase the Acquapura Personal Filter Straw with LIFETIME Warranty- BREAKTHROUGH Triple Layer Filtration to 0.01 Microns With Ionic Silver and Exclusive Antibacterial GAC "Damping System".BPA Free, WQA and Tuv-sud Certification- All Packed in Just 2.12 Oz (60 Grams). Go Beyond Ordinary Filters- Confidently Protect Your Family with Acquapura Personal Water Filter
 on Amazon where it is described as:
designed to provide you with safe, clean drinking water when you need it. The ideal water filter for hiking & camping, travel, emergency preparedness & survival, Acquapura makes most contaminated or suspect water safe to drink.
enables users to drink water safely from most contaminated water sources. Acquapura is ideal for emergency preparedness, as well as for campers and hikers who may be drinking from rivers or lakes and are unsure of the water safety. Because Acquapurais lightweight and compact, just 2.12 Oz (60 Grams), it is also great for travelers who do not want to rely on the quality of local water..
break through formula uses silver ions and triple layer filtration to give water that's 99.9999% pure and safe for your family to drink. Best Gift you can give to your family and loved ones this season.
filter every single virus and bacteria greater than 0.01 Microns. Scientists have long known that silver ions, are deadly to bacteria. It can not get safer than this- we bet!
12 month, 100% money back guarantee. Lifetime replacement warranty protects you from any manufacturing/performance defects not caused by consumption through out the life cycle of the product. All claims backed by certifications from WQA, FDA and TUV-SUD
features a Unique Cap with an Innovative Dust-Free Design Protecting You from the Secondary Pollution of the Outlet Mouthpiece. Includes the backwash device for flushing the filter out of left over particles
raw water is completely filtrated with Exclusive Antibacterial GAC "Damping System" with UF Membrane
Sounds amazing! We were all so excited to try it.
I was pleased to see it arrive in minimal packaging, in perfect condition quickly.
The sleek, light-weight design of this personal water filter make it very easy to carry around or store. Whether you plan to hike with this, keep it for emergencies or use it regularly to filter your water, it comes with everything you need. After your first use, this personal water filter should last for 1 year or 1,500 liters. Left stored, it should last up to 3 years.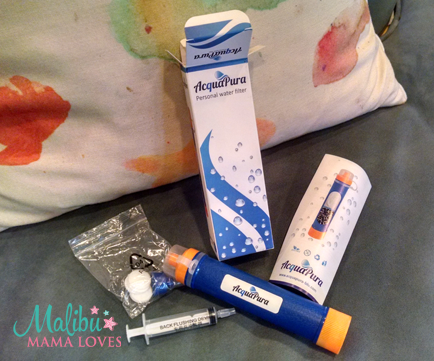 We flushed it thru one time before using it (attach the prefilter to the bottom the use the included plastic syringe to flush water thru), then packed it to bring on our trip to Pennsylvania to test out in a river there. The Acquapura Personal Water Filter fit nicely into our carry-on travel bag and took up very little space.
It works like a straw. You should have already attached the prefilter to the bottom before flushing it out. So now either attach a water bottle or lower the Acquapura personal water filter to the water you wish to drink and bend your head down to it to use as a straw.
We tested it with river water, bottled water and tap water!
The Acquapura Personal Water Filter works fantastic!! This filter is just what I have been looking for.
I can send it with the kids to school to attach to their water bottles so I don't have to worry about what they are drinking.
I can travel with it – on both a city and a great outdoors trip!
I can store them for a possible future disaster – earthquake, hurricane, the perfect storm…!
The Acquapura Personal Water Filter makes a great gift for any person on the conscious living lifestyle path!
Check out my video review:
Malibu Mama Loves Xx
#acquapure