Connect & Stay Connected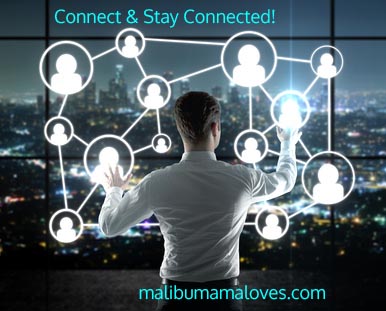 Starting this website has been an incredible journey. From the creative to the business planning to the writing and learning, it has all been amazing.
But my absolute favorite part of MalibuMamaLoves.com is connecting with both new and established friends.
To connect and stay connected, that is what I love!
I have met some wonderful people in just these short 6 months of being up and running. There are so many incredible people in this world…
Here are 4 of my favorites –
Kinsie of MOMSofconejovalley.com. A friend invited me to join a local Facebook Group that is
'a community of Moms from Conejo Valley joining together through social media to Share, Ask, Sell, Trade & Play!'
Kinsie started this group when she became pregnant and was looking for some tips and advice, but couldn't find any. It caught on like wild fire and now has over 5,000 verified, local moms supporting each other, laughing together and learning from one another. Her website promotes involved local #SoCal moms and is full of good info! I look forward to working on future projects with Momsofconejovalley.com!
Alexa Williams-Meisler of 52PerfectDays.com. I connected with her on twitter when I was looking for more information on using Facebook. Alexa was offering a free consultation on How to Use Facebook so I followed her and she reached out to me. We had a great conversation where she walked me through all of the various facebook options for businesses. In addition Alexa gave me invaluable advice for my website. She was honest with me and told me things I needed to hear. I highly recommend her if you are looking for someone honest to help your company be a success!
Keri of Keri Blair Photography.photosit.es. I have been following her career for some time now and I am awed and amazed at every event she photographs. Her eye is impeccable and her imagination limitless. I have already booked her to shoot our vow renewal Sept. 2016, I cannot wait to work with her!
Keri Blair Photography says: 'Although the heart of my business is wedding photography, we don't want our relationship to end there. My goal is to be your family photographer; someone to make beautiful images of your beautiful life, wherever your life takes you.'
If you are looking for unique, outstanding family/wedding/lifestyle photos – this is your photographer, check out her gallery here!
Pola of Jettingaround.com. I connected with Pola on twitter during her really fun #JAChat. It was my first time being a part of a 'twitter chat' and she was very welcoming! I had so much fun that I followed her and found her awesome travel blog with lots of great tips! Pola is knowledgeable about the travel industry and I always enjoy her posts! I am so excited to be co-hosting #JAChat on April 17th with her discussing Tips for Urban Family Travel.
I look forward to seeing what these friends get up to in the future and meeting new friends like you!
Drop me a line so we can stay connected, I would love to hear what you are up to so we can Share ✩ Explore ✩ Awaken together!
Malibu Mama Loves Xx