Do Emotions Affect Productivity?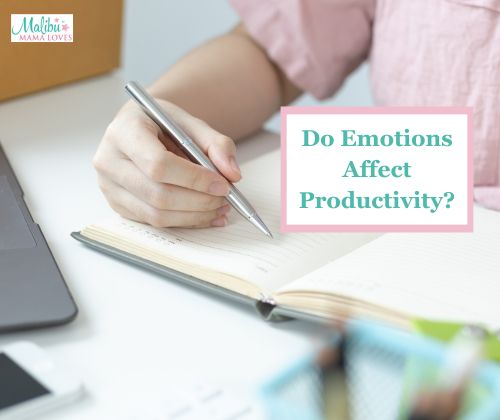 The short answer is Yes! Absolutely! Emotions 100% affect our productivity, just as they affect every aspect of our worlds. And most times, we don't even realize it.
Actually, our emotions are often one of the most overlooked causes of being unproductive. You see, our productivity and our performance are hugely influenced by how we are feeling about ourselves at that time and what we THINK we are capable of – good or bad.
You've heard of those pesky limiting beliefs, right? Well they can stop us right in our tracks, never letting us reach our full potential, leaving us feeling totally unproductive.
Yet other days we feel like we can take on the world. So how do we find some balance? Are there any steps to becoming more productive?
Yes! Keep reading to find out how!
How to Find Emotional Balance To Be More Productive
One of the best ways to do this is to have clear directions to what you want to accomplish. Define your goals, your realistic goals and how you intend to achieve them. This will help when your emotions try to take over, you can refer back to your list to keep your focused. Read this post on goal setting and make sure your goals are aligned with your intentions.
Having clear directions helps us to be able to focus on the completion of the task as opposed to how to do the task – which generally results inprocrastination. Most people tend to shy away from the confusion causing their productivity to drop drastically.
So by outlining your goals and creating a realistic step by step path to reach those goals you are giving your self 1. An easy distraction from your emotions and 2. A way to be more productive and focused when the hard days arrive.
Science has shown us that the most productive people are happier people and likewise, those who are stressed more and going through trauma are less productive. That is why having a clear plan and being kind to ourselves allowing ourselves to feel what we need to when we need to is so important.
It takes time and effort to find this balance. If you are ready to take that first step, click here to take my FREE Do I Have Unhealed Trauma Quiz to find out if emotions are holding you back. I look forward to going over it with you! Click here.
Cheers,
Malibu Mama Loves Xx