Family Travel: Our Mother Daughter Adventure To Catalina Island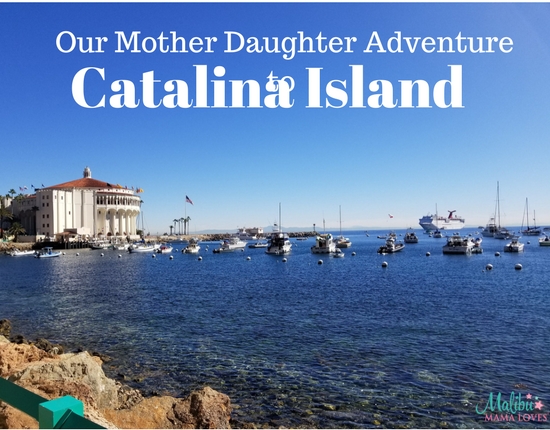 Traveling is one of the best ways to bond with our families, to awaken and grow as an individual, to have experiences we never would have at home, to step outside of our comfort zones and really taste life while pushing ourselves to new lengths! Traveling keeps us conscious, keeps us in the present and gives us something to share and be so excited about. We will remember our travels (and our travel partners) forever!
This year, I am focusing on creating more individual one-on-one time with my children.
Of course I want to use this as the perfect excuse to take more trips (I mean who wouldn't?!)!! Being from the East Coast, there are so many places in Southern California I have been dying to explore, making it easy to put together a local travel bucket list of trips perfect to divide and conquer my children on! Catalina Island was very high on this list!
Growing up, I had heard about the glamorous Catalina Island where all the stars of Hollywood would go to play. I had always wanted to visit, it sounded lovely! But I knew nothing about the Island, so I needed some help.
The amazing team at Visit Catalina Island put together an incredible itinerary and I knew it was the perfect opportunity for a one-on-one trip with my daughter! It would be our first.
For a printable version of our itinerary click here. You can download it, print it, and start planning it easily. As soon as you finish reading this, you will know exactly why you should!
What to Pack For Your Adventure to Catalina Island
You will want to think in terms of layers. It is chilly in the morning, nice and warm all afternoon and chilly again in the evening. You will want comfortable shoes for walking and doing all of the fun activities there are on Catalina Island.
For a detailed, downloadable, printable packing list for a 3-Day adventure to Catalina Island, click here!
Our Mother Daughter Adventure To Catalina Island
As you are about to read, we had an amazing time. It was our first time alone together and it couldn't have gone any better. From seeing my daughter push herself past her fears, to giggling because she gets the remote and can watch tv from her own bed, to laughing together when we arrived at dinner to find a live lobster walking around our table, everything was incredible. And our relationship became that much stronger for it.
But let me tell you about the trip first!
We drove down to Long Beach to catch the Catalina Express to Avalon. Parking was easy, getting our tickets and luggage was a breeze and the ride was super fun! Check it out: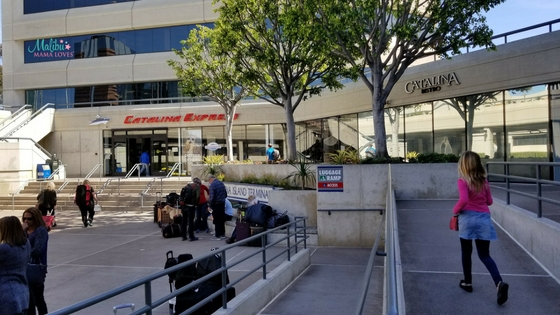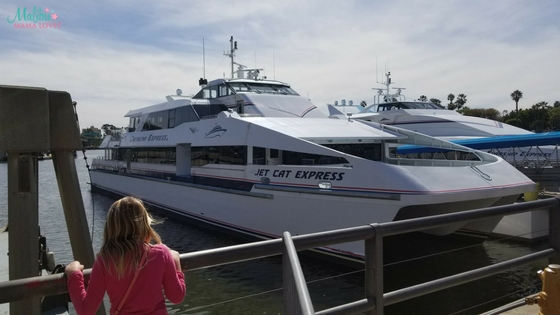 The boat is smooth and fast. We bought a couple of drinks and talked about all of the things we were excited to do as we had an action-packed itinerary!
We arrived in Avalon to find a bellman who took our bags for us and walked with us a short 3 minute walk to the Pavilion Hotel.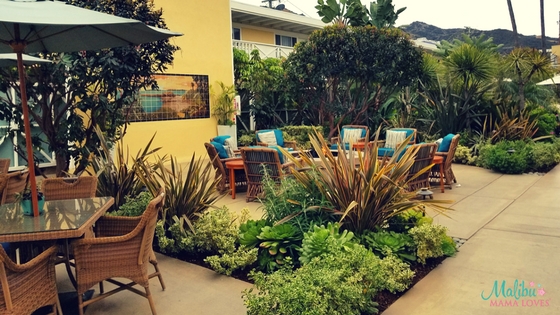 We loved the Pavilion Hotel because it is centrally located to EVERYTHING and has a beachy, relaxed vibe to it. It is clean and well-kept and the people were so friendly and helpful to my daughter and I as we checked in with minutes to get to our Parasailing adventure! Plus the rooms are incredibly comfortable.
With a quick change of clothes, we jogged across the street and onto the pier to jump on a boat with Island Water Charters Parasailing to go…. Up, up and away!!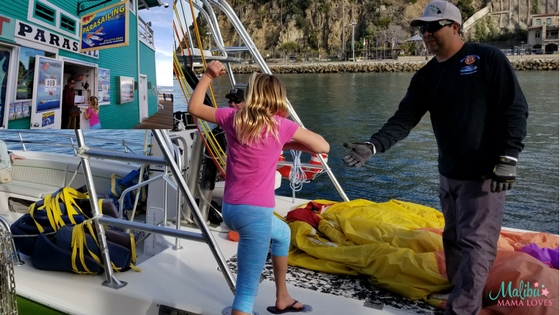 The guys picked us up, got us harnessed up, explained how to safely do it, made us feel calm and secure and away we went! It was awesome!
Share the love and pin this: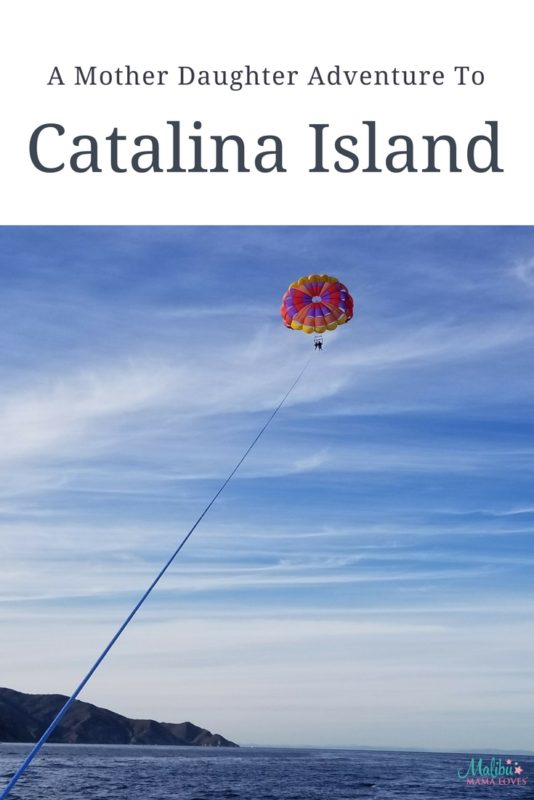 After that we were totally ready for a drink by the fire! We crossed the street back to the hotel, I had a nice glass of wine, she had a nice glass of spa water, we made a yummy cheese plate and found a seat around the fire together. It was really nice.
Within a half an hour we decided to head back to the room and get ready for dinner at The Avalon Grille. It is just a short walk from The Pavilion Hotel and offers spectacular views of Avalon Harbor through their giant windows and airy atmosphere. They serve American cuisine with local fresh seafood and a seasonal menu. It is trendy and delicious and we had a wonderful evening there!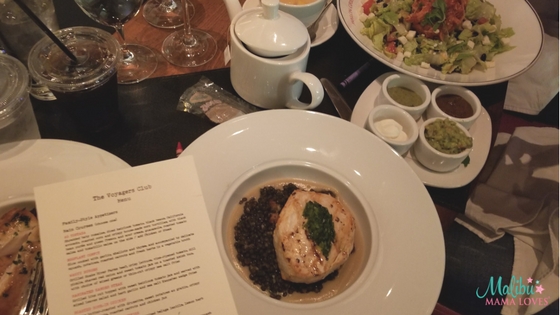 The next morning, we got up around 8 and went to the complimentary breakfast bar at Pavilion Hotel. It was great, with scrambled eggs, oatmeal, bagels, muffins and Danishes, cereals, yogurts, bacon, sausage and so much more… A great spread, all the fuel we needed to get ready for an exciting day.
Around 9:30 we left to walk over to the Catalina Aerial Adventure course. It was about a 20-minute super easy walk around a beautiful harbor and the casino. They have 5 rope courses and several zip lines for you to challenge yourself on. We were going to try to do as many rope courses as we could.  After some instruction from the awesome staff we hit the beginner course first.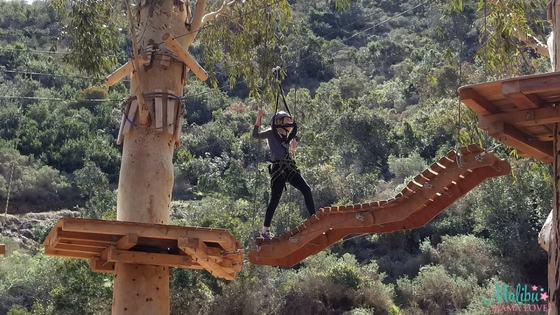 I was so proud how quickly my little got through this course and how much fun she had. She couldn't wait to do the next! We got through 3 and called it a day, but it was super fun. From ziplining to balancing to trusting yourself to bungee jumping, the Aerial Adventure courses are fantastic.
Next up was our behind the scenes tour of the Casino. I thought there would be gambling… but as it turns out Casino means place of gathering in Italian. The Casino on Catalina Island is actually the first theater built for sound motion pictures in the United States and has a beautiful ballroom on the top boasting breathtaking views. The tour is a 9-minute movie and walk through the ballroom. It is fascinating.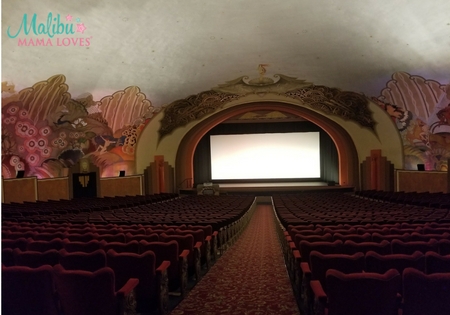 The view from above…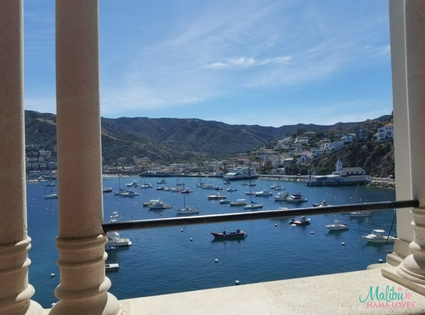 After this we were hungry, so we stopped at the Bluewater Grille for lunch on the way back to the hotel. Bluewater Grille is right on the harbor, over the water with gorgeous views. They have an oyster bar, a sushi bar, a great fresh local seafood menu and a very relaxed atmosphere. It was so fun!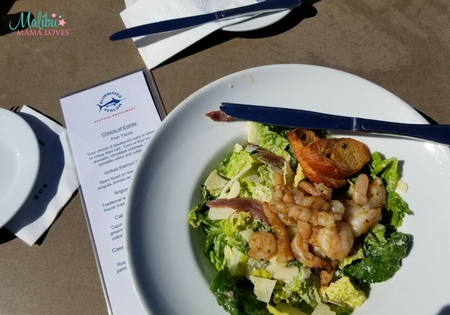 Next up was some spa time at Island Spa. Located at the edge of the boardwalk there, a brief 4 minute walk from the hotel sits a peaceful, luxurious spa perfect for relaxing and rejuvenating. Ask for massage therapist Jennifer and prepare to be pampered! Afterwards, enjoy some time at the pool and hot tub. Don't forget about the sauna and steam room and gorgeous showers before you go to leave you feeling super relaxed and happy.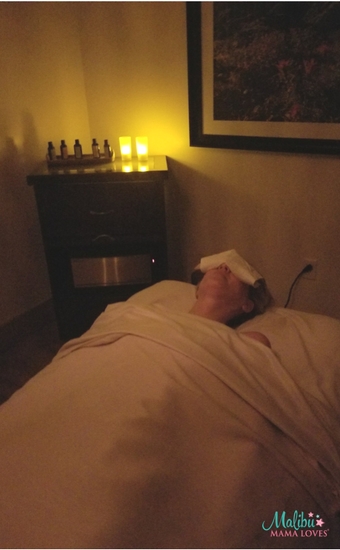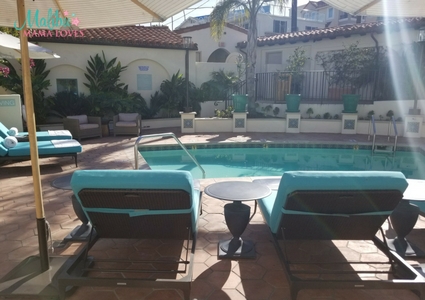 It was time for cocktail hour at the hotel so we headed back for a drink, some yummy eats and to get ready for dinner! We were going to a place called The Lobster Trap and were very excited!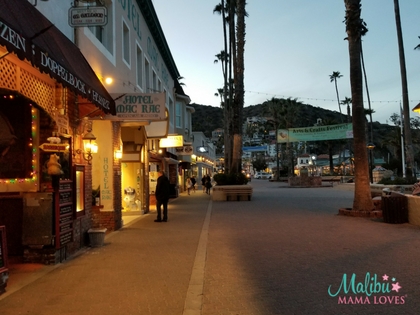 We walked around the corner to dinner and my daughter was excited to see a live lobster walking around our table! The place had a fun, local fisherman vibe with a huge menu of all kinds of fantastic seafood. We had a great meal here.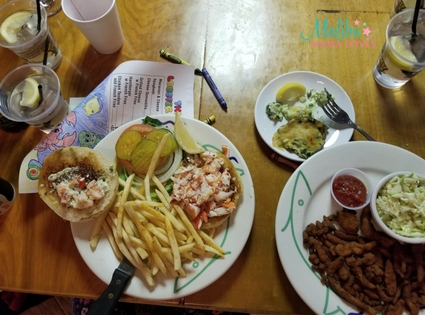 Then we headed out for an astronomy tour with Kathleen Hill Carlisle, an amateur astronomer who is filled with fascinating information. We learned a lot and had fun cuddling under the stars while learning interesting facts we did not know. It was such a lovely way to spend the evening!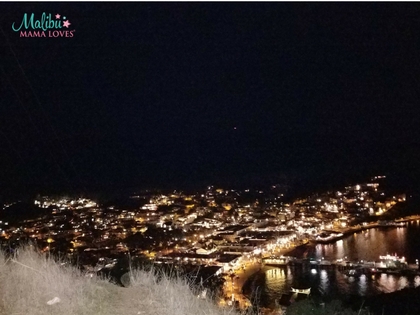 The next morning we were checking out. So we got up around 8, packed our things, put our suits and shorts on, had breakfast and headed over to Descanso Beach Club to Kayak for an hour before we had to check out. This was so much fun. The staff helped take out picture and then we headed out to explore. It was easy and my daughter and I had a blast – we even caught a wave in!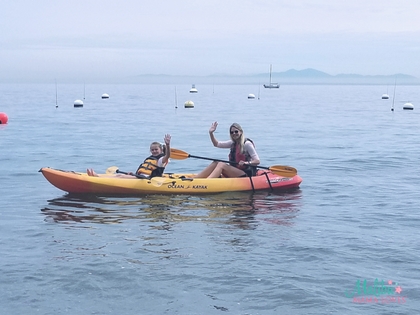 We stayed out a bit longer than we should, so it was a quick dash back to the hotel to change, get checked out and get over to the Catalina Express back to Long Beach! We made it in plenty of time and as excited as we were for another ferry ride on the Catalina Express, we were both sad to be leaving!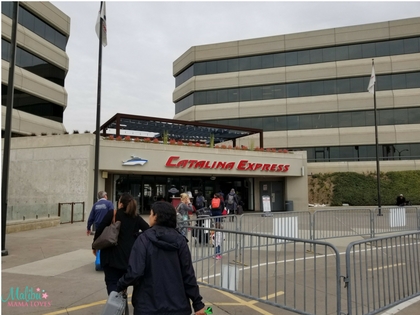 Come with us over the next few weeks as we share the experience of each different activity with you, and a video of our trip to be coming soon! We made so many wonderful memories at Catalina Island, we can't wait to go back again!
When will you be visiting Catalina Island?!
Cheers and Safe Travels!
Malibu Mama Loves Xx