Female Pioneers In The Travel Industry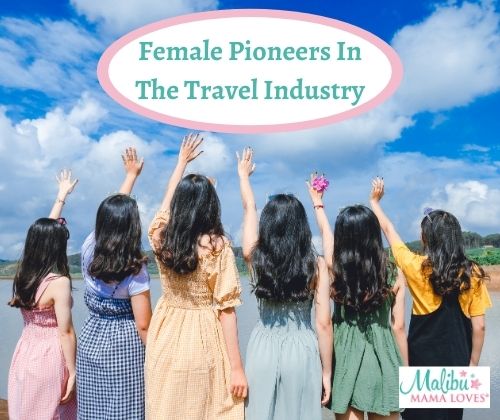 Let's continue the conversation during Women's History month and talk about 5 women who have greatly impacted the travel industry, shattering glass ceilings like they where never there.
5 women whose names we rarely hear about, yet they paved the way for us to be able to travel as freely as we do today. Talking about them, remembering them, teaching our children about them, helps to empower our future and spark new, innovative ideas!
Female Pioneers In The Travel Industry
Nellie Bly (b.1864 – d.1922): born Elizabeth Jane Cochran, she was an investigative journalist who used the pen name Nellie Bly, she also made my Female Pioneers In The Mental Health Industry list – so I had to put her at the top here!! She made her name by pretending to be a mental health patient, checking into an asylum and exposing the horrific conditions there. So it is not surprising that upon reading the fictitious book "Around The World in 80 Days", she took on a daring stunt to do it in 75 days! In 1889 she set out to beat this 'record' and made her journey by train, steamship, and horse, out of Pennsylvania. Best of all, she beat her goal and did it in 72 days!! She wrote for New York World and was initially told that they would not send her because they were concerned she would not be able to complete the journey and report due to her gender. Her response: "Very well. Start the man. And I will start on the same day for some other newspaper and beat him." Now that's #Girlpower!!!
Jeanne Baret (b.1740 – d.1807): a French 'herb woman' with a gift for understanding plants and herbs. She caught the attention of fellow botanist Dr. Philibert Commercon who was invited on the first French circumnavigation of the globe in 1766 – 1769. He agreed to take her along as his assistant in which she had to pose as a boy!! Women where not allowed on French Naval ships at the time, so she was forced to disguise herself as a man for 3 years and did so successfully being the first female to circumnavigate the world! Talk about shattering the glass ceiling!!
Amelia Earhart (b.1897 – disappeared 1937): possibly one of the most famous women in travel history, Amelia was told she could not do it yet went ahead and did it anyway. She was the first woman, and the second person ever, to successfully fly across the Atlantic Ocean among many other aviation records. She was an activist, a writer and strong advocate for women's rights. She disappeared on a solo flight in 1937, never to be seen again.
Betha Benz (b.1849 – d.1944): responsible for perhaps the most important car journey ever taken. Her husband, Karl Benz, is accredited with inventing the motor car, and Bertha is accredited for its success. In 1888 there was a lot of doubt surrounding a horseless carriage. In perhaps what is considered one of the biggest marketing stunts in history, Bertha decided to prove her husband's car was reliable. She drove a 56-mile trip in his creation to prove the car was capable of going the distance and it was a success. The car went that far and then some, later to become the luxury car brand Mercedes-Benz, all because Bertha bravely had the nerve to prove that it worked when no one else thought it would.
Cassie De Pecol (b.1989): Living history!!! In February 2017 she crossed into Yemen at 4 a.m. on a bus completing her goal to become the first documented woman in history to visit every country in the world in 18 months and 26 days. What makes her even awesomer is that she did it as an ambassador to the International Institute of Peace Through Tourism, spreading peace and awareness everywhere she went!!
These are just a few amazing women throughout history, representing far more than just a voice. Showing us that we can and will accomplish anything we set our minds too.
Cheers!
Malibu Mama Loves Xx