Heart Boutique in Westlake Village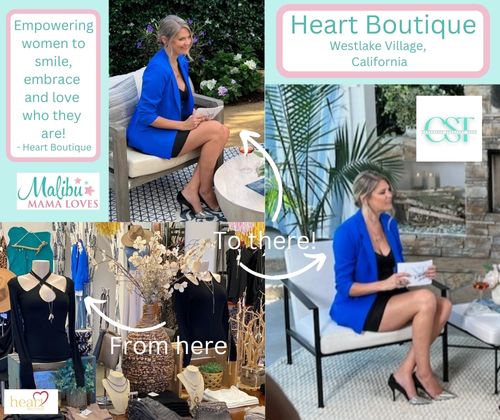 It's not very often that you find someone in the workplace who immediately understands your energy, vibes and intentions within the first meeting and is able to produce incredibly aligned work for your brand/company. Rarer still, is when that person finds other like-minded companies whose messages you love and opens the door to them…
Meet Amanda Weil, stylist extraordinaire! Some may call her psychically in-tune, others a genius… I like to call her our Goddess of Style!
I met her on a shoot for Conscious Straight Talk where within one phone call she nailed down our vibes and knew exactly how to dress us and the set for a few unique episodes. Working with her is amazing, I couldn't let her go!
Imagine how excited I was when she knocked the ball out of the park by introducing me to the Heart Boutique in Westlake Village, Ca – my backyard!!
Let me tell you how it happened.
How I Found The Heart Boutique in Westlake Village
It was 5 in the morning. I was on set for Conscious Straight Talk, exhausted and nervous for the day. Amanda walks in like a ray of sunshine with several racks of clothes in tow. I started to get excited…
When she pulled out that royal blue blazer pictured above I combusted!! How gorgeous is it? Right?!!
Amanda told me about the Heart Boutique and how incredible they were to work with. She showed me several other pieces from them and I knew I had to go check this boutique out.
As you know, Conscious Straight Talk is all about removing the stigma of talking about mental health. The first thing I fell in love with when I googled Heart Boutique is their slogan –
"Empowering women to smile, love and embrace who they are".
Adriene Denniston opened the store in 2016 using her passion to help women see their individual beauty – both inside and out to create a boutique with fashions for every unique body and personality type. Using her sharp eye for fashion she continues to cultivate gorgeous collections, season after season. Check out their Instagram profile here.
Why I Love Heart Boutique in Westlake Village
Simply put – everything fits like a glove, the quality is sustainable and really good and the style is A-M-A-Z-I-N-G! Their customer service is spot on too! The kindest people work there. When you go in, you really get the feeling that they care and want to help you find the best look that brings out the best you. Knowing the high value they place on mental health and how style definitely affects it just makes you feel better buying from here!
They even offer online shopping! You can find their store located right off the 101 in Westlake Village California. Click here to check out their online store – or to get directions!!
Cheers and happy shopping!
Malibu Mama Loves Xx