How to Leverage Your Time To Make More Time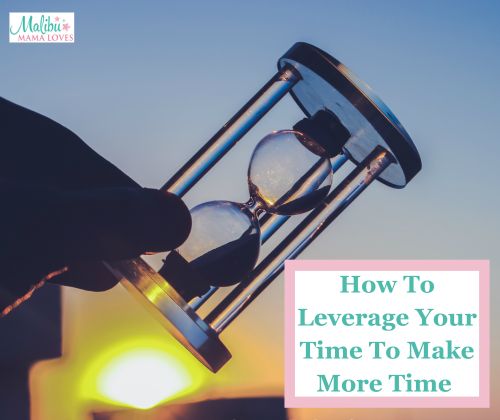 Are you tired of feeling like there is too much to do and not enough time? We all get just 24 hours in a day; so why can some people easily work full time jobs, create their side hustles and seem to be the perfect full-time parent and fully there for all of their friends and family, while others of us can barely find time to do much more than work and sleep?
The answer lies not in working harder, but in working smarter, with more intention. Leverage works by using your current resources to gain an advantage. By being conscious of this small bit of knowledge, you can start leveraging your time today, to make more time for tomorrow. Read on to learn how.
How to Leverage Your Time To Make More Time
Leverage Your Time! There are 3 easy ways you can start doing this today.

Set realistic goals. Define what your goals are and outline a concrete way of achieving them. Be realistic. Dive deep into your goals, explore why you want to reach each goal. It is in understanding the "why" behind your goals that will help align it with your purpose while giving you the sense of accountability to successfully accomplish these goals.

Use the SMART goal system – is your goal: Specific, Measurable, Attainable, Relevant, Time-bound? Go through each one and ask each question. Don't be afraid to change the goal to align more with your purpose if you discover discrepancies.

Prioritize your time, create and keep a schedule. This means focusing your energy and time on the things you hold most important as opposed to spending time on things that really are not important. Create value for each of your expected tasks and then put them in order of priority. Write out a list and schedule of when you will complete them and stick to it as much as possible. This alone will create so much more time for you than you ever thought possible!
Utilize technology! There are so many calendars, alarms, journals and apps that are designed just to keep you on track. Don't be afraid to use them!!

Leverage Other People's Time! Here are a few easy ways you can start doing this today.

Develop clear guidelines and plans. Setting out a comprehensive list of things your team can do upfront saves (which means makes) so much time. Including if your team is made up of family members. Consider this – What they need to do; when they need to do it; and how they can go about achieving these tasks. This way you are creating the environment for success and enabling your team to do what you need, how you need – allowing you to focus on other tasks.
Delegate. This is essential to creating more time for yourself. Delegating sounds scary, but following a few simple steps will help – 1. Identify the right person for the task. One of the biggest gifts is to be able to identify who is good at what… and acting upon it. 2. Be specific and clear about the task (see above!). 3. Give support as needed. Be available for questions and guidance.
Listen to the experts and consultants. There is so much great info, tips and tricks out there. Be mindful of them and have fun testing different methods to find what works best for you.
By utilizing even a few of these suggestions you will quickly find yourself more organized, feeling more in control and that much closer to achieving your goals!
What are your great tips? Please share them in the comments, remember – it takes a village!!
Cheers!
Malibu Mama Loves Xx