The Mystery Unfolds Now On Disney+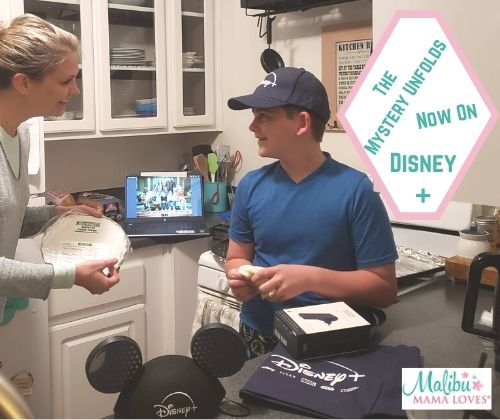 The Secrets of Sulpher Springs is now unfolding on Disney+ and is the best new family mystery around!!
This family mystery binge-worthy show has recently been added to Disney+ so whether you have been following along or just discovering it now, the mystery is waiting for you!!
What Is This Family Mystery All About?
The Disney show takes place in a beautiful but rundown Inn – The Tremont – in a fictitous, quiet, country town called Sulpher Springs, Louisiana that has been closed for decades due to a tragedy – a young girl's disappearance. We follow a family whose father had spent time as a child at The Tremont Inn.  He lives in Chicago, is married with 3 children – a son and fraternal twins. The show opens with his wife supporting his decision to relocate the family to Louisiana and the rundown inn to renovate and re-open it.
As you can imagine, the kids are not happy about this and the wife is digging deep within to be supportive. None of them could have imagined what was awaiting them in Louisiana….
Enter The Tremont Inn, which they find out pretty quickly is haunted as many strange things happen once they are moved in! The mystery begins with a young girl, Savanah, who suddenly disappeared from the Inn one summer 30 years ago never to be seen again and is said to be haunting the Inn today.
The children make friends at school who all become involved in figuring out what happened to this girl and what or who is haunting the Inn. We are quickly drawn into unraveling the clues from the past, and as one question gets answered, several more appear!!
The chemistry between the cast members on this show is what really makes it binge-worthy though. Yes, there is a GREAT story line, I think the writers at Disney knocked this one out of the park. But the story is only words without the right cast. And this group has come together so nicely. They have charisma and chemistry with each other that makes it really fun to watch for all ages and very easy to follow.
My kids and I have been loving all of the great things Disney Channel PR has been sending us to get us excited for our pre-screenings of The Secrets of Sulpher Springs. For our Disney Date this week, we are making our own pizzas and cookies from Jon and Vinny Delivery wearing our new Disney+ hats and using the USB charger so we can pre-screen As Time Goes By, this Friday's family mystery episode! Getting to interview the cast has been great too.
Behind The Scenes Of This Family Mystery
A little behind the scenes that really impressed me – they started filming before COVID-19. They had to take a break for several months due to quarantine, then returned to finish filming with new restrictions and successfully created this amazing show. This is why I find the fact that the cast has, and maintained, such a strong chemistry while going through all of this pretty incredible.
If you haven't checked this family mystery out yet, start up your Disney+ and search The Secrets Of Sulpher Springs to catch up before Friday nights new episode is added at 8pm! There are only 3 new episodes left for this season, now is a great time to get on board!
Gather your favorite eats (or order from Jon and Vinny Delivery because it is oh sooo good and fun the link is above), call the kids down and start bonding with a Disney Date tonight!
Cheers!
Malibu Mama Loves Xx