22 Signs You Need Inner Child Healing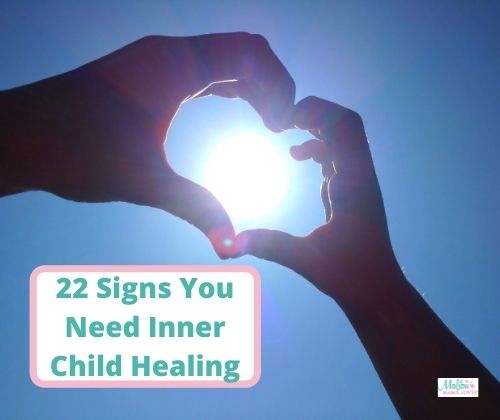 We all carry our inner child around with us, that little voice deep inside wanting to be heard. Filled with creativity, wonder, opinions and thoughts that many of us don't ever allow ourselves to explore. When we are disconnected with our inner child, often we feel bored, unenergized, on autopilot just coasting through life. Yet when we are, everything seems incredible and the possibilities are endless.
This makes inner child healing so important. You can read more about inner child healing in this post here. Here are signs that you need inner child healing, the more you say 'yes' to, the more you need to seriously consider hiring a conscious life coach who can help you do some inner child healing work.
22 Signs You Need Inner Child Healing
Do you feel:
There is something really wrong with me, deep down.
I feel anxious whenever thinking about doing something new.
I am a people-pleaser.
I do not have a strong identity, I am not really sure who I am on my own.
I like chaos, I feel better and more alive when I'm involved in conflict.
I have a hard time letting go of things.
I feel too guilty to ever stand up for myself.
I never feel good enough as a human.
I am an over-achiever and a perfectionist – it has to be perfect, or I've failed.
I fear I am going to hell, that I am doing everything wrong and am damned.
I have negative self-talk, constantly criticizing myself and telling myself how stupid I am.
I have trouble starting or finishing things.
I am ashamed of how I feel and do not express strong emotions ever.
I have sex when I don't want to.
I rarely get angry, but when I do, I become furious.
I spend too much time look at porn, gambling, drinking or taking drugs.
I avoid conflict at all costs.
I struggle with trusting myself and others.
I am afraid of people and isolate myself.
I feel more responsible for others than for myself.
I struggle to say 'no', I almost never do.
My deepest fear is to be abandoned; I'll do anything to keep a relationship going.
If you find yourself saying yes to more than 10 of these statements, this is a sign that you need inner child healing. Working with your inner child should be at the top of your priority list. It's time to reconnect with your inner child to find your balance.
Ready to take that step? To transform your unhealed trauma and turn your pain into purpose? Join my FREE masterclass today!
Sign Up Today
Malibu Mama Loves Xx