3 Benefits To Traveling During The Holidays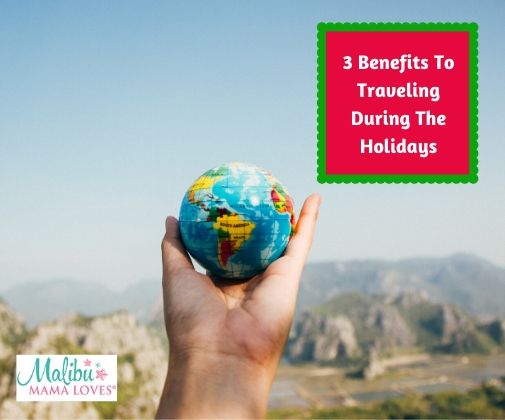 Holiday travel has such a bad stigma attached to it. Yet it is one of the best times to travel, literally!! Everyone needs a break at this time of year and there are so many great deals to find. I have flown on both Christmas Day (epic surprise Christmas present to by kids btw… they awoke to presents that led to a packed bag and a ride to the airport) and Thanksgiving day (not a surprise, but I was surprising pleased at how easy and smooth the flight and airports were!) so I can tell you, holiday travel rocks!
I know, I know, you are thinking ginormous packed bags, cranky kids, delayed flights/bus/train schedule, crowds of people… BUT it is not true!
The days of Home Alone type holiday travel are a thing of the past! Today, holiday travel is so easy, far more affordable than you think with a little time put into it and very, very beneficial.
3 Benefits To Traveling During The Holidays
Change of scenery and pace! This is the biggest benefit because we all need it desperately, so much that you may not even realize it! Most offices and schools are closed during the season providing the perfect opportunity to get out there, explore, rejuvenate, and freshen your mind up for the new year. Holiday travel provides a chance for you to change the pace and do something different for the holidays that you will never forget. The holiday atmosphere is everywhere and traveling during the holidays will get you into such a positive holiday spirit that you will find is shared throughout the world, we are all connected.
The Family Bonding. Taking a family vacation during the holiday season provides all of the benefits of family travel topped with doing it during a really special time of the year. Traveling during the holidays ties the family together for an adventure, a chance to work together, explore together, laugh together and get through all those fun little 'we will laugh about that later' moments! There are so many holiday travel deals to be found, try working together or having a race to see who can find the best trip deal together and let the bonding start at home!
The Memories. Let's just be honest, no matter what happens, traveling during the holidays will be an unforgettable experience for you and yours. They will be memories you will treasure forever and will remind you that you are someone that says 'I Did' instead of 'I wish I did'. The pictures and videos will keep you smiling on rainy days and hard seasons endlessly and will make you glad to be you during the good times.
So if you haven't yet, check this post out on booking last minute travel and get your bags packed! I wonder where you will choose to visit?!
10 Reasons To Travel This Holiday Break
Cheers and Safe Travels!
Malibu Mama Loves Xx