5 Days Til Fiji!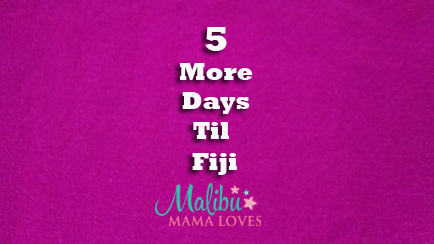 Remember way back in March when I told you we would be headed to Fiji soon?
Well, after many months of planning, we are 5 days away from taking a trip that I have dreamed about since I was a child. I can't wait to experience the exotic sites, smells, and tastes with the adventure and romance of Fiji.
3 amazing resorts are sponsoring us to come visit Fiji for a second honeymoon and share our experience with you!
Here, have a look at where we will be staying in Fiji:
The Koro Sun Resort & Rainforest Spa is our first stop. It looks like a little piece of heaven on earth. Relaxing, reconnecting with hubby, swimming off of our floating bure every morning, snorkeling, paddle boarding, hand-line fishing and a walk in the rainforest are just some of the things we are planning to do here! This resort is said to be a nature lover's paradise so I am super excited to check it out!
Next stop is to Matangi Private Island Resort. This resort is a private, adult only, all-inclusive, 5-star resort perfect for the conscious couple looking for adventure and to reconnect. Matangi Private Island Resort is home to Horseshoe Bay – which made the list for top 100 places to see in this world. It looks like paradise just waiting to be explored. This resort was originally opened up as a premier scuba dive resort and is also home to some of the best scuba locations in Fiji. Matangi has some very interesting excursion options including a private Horseshoe Bay Picnic, private candle-lit dinner, Civa Pearl Farm & Tavoro Waterfall Tour –  on Taveuni island, Lavena Coastal Walk – on Taveuni island, 180 degree Meridian & Waitavala Waterslide Tour – on Taveuni Island and a the spa looks amazing too.
Our last stop will be to the The Intercontinental Fiji Golf Resort & Spa which looks so luxurious. This resort is a 5-star, luxury resort perfect for families, honeymooners, babymooners, second honeymooners, and vacationers. They feature a world-renowned golf course at a breathtaking location. Activities that we look forward to are the nightly fire-lighting ceremony, the South Pacific Fire Dancing, Tribal Drumming Show, spa treatments, snorkeling, kayaking, and checking out that divine pool, the restaurants and the surrounding villages! It all looks so spectacular… in only 5 more days!!
One of the activities offered at all of the resorts is a visit to the village school. Visitors are invited to bring things like pencils, notebooks, pens, stickers – school supplies to donate to the local schools. I am really looking forward to this part of it. My kids and I have been putting together little 'goodie' bags to hand out to all of the kids there.
Curious as to what one of the world's most luxurious, exotic destinations is all about? To find out what we do in Fiji, follow along on my Instagram, Facebook and Twitter accounts for my personal Fiji pictures, travel tips and extensive reviews on the resorts and experiences we have.
I can't wait to share my journey with you!
Malibu Mama Loves Xx
#FijiHappy