6 Reasons To Travel While Healing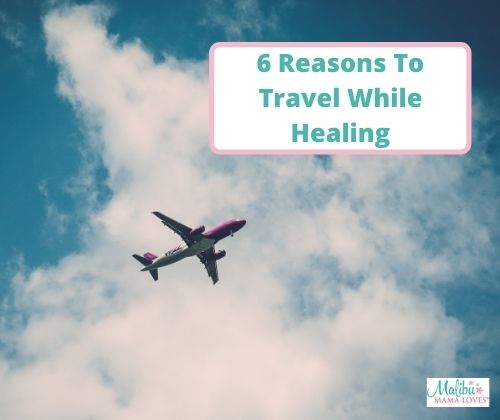 Travel is a super powerful way to heal the soul, cleanse the mind and to open your heart up. Experiencing trauma is life changing, nothing will be the same as before. As you go on your healing journey, travel is an impactful way to help you understand, rewrite and reclaim control over your life.
First you should read this post on 6 ways travel is healing. It will give you a good understanding of why travel is so healing. Here I want to share 6 reasons to travel while healing including all of the benefits traveling on your healing journey will bring you!
6 Reasons To Travel While Healing
Traveling rebuilds your confidence. Trauma wears us down. But stepping outside of our comfort zone into the unknown of travel shows us just how strong and resilient we are – a massive confidence booster!
Travel forces you to be present. When you step out of your comfort zone, you are suddenly forced to stay in the present moment and pay attention – quietly letting go of the past and allowing it to fall away in our minds as we focus on the here and now.
Travel shifts your mood. You know what they say… anything can happen on vacation! Travel invites new experiences allowing your moods (and ultimately mindsets) to shift.
Having alone time away allows you to face your fears and really look within. Travel always awakens something within and being out of your norm, allows you to face things you may not be able to at home.
Travel brings you to places that can soothe your soul. Stepping out of what you know gives all of your senses a break and allows for new feelings of peace from foreign lands (even if it is only in the next county over). Beauty has a way of expanding our senses and connecting us to our inner self. You can feel it.
Travel cultivates gratitude. Not only for this magnificent world we live in, but also for our lives, our comforts, our friends and families. The people we meet on our travels serve as reminders to that we are all connected on some level and that kindness is still very much alive in this world.
Travel is so good for your mental health and truly gives us a great way to stay on a conscious path in this life. When things get tough, the tough get going. They rest, rethink, refresh and reset.
Sounds good, doesn't it? Where do you think you will want to visit next? Let's make today the day we take that next step on our healing journey!
Cheers!
Malibu Mama Loves Xx