How To Eat Healthy At Any Airport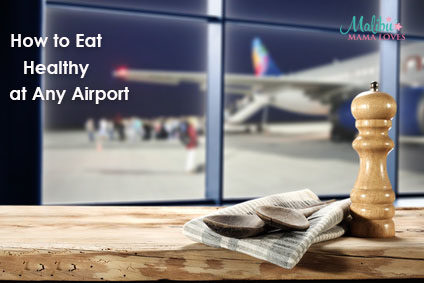 Let's be honest, when I think about eating at the airport I used to think about fast, garbage food. So I can hurry to wait at the gate for boarding… even though I like to board last so I can get a little bit of exercise in…
One day, on my food revolution, I realized this made no sense. I always eat fresh, seasonal and local at home and when on holiday, so why on my travel days was I thinking about that nasty fast frankenfood?
I realized it was because I never stopped and looked around. I never planned for eating. I planned flight times, what to wear, what to carry on, who is picking us up and dropping us off, but never for eating.
I decided right then and there to change all of my future travel days. I wrote down these 5 thoughts on how I could eat well at any airport and I tried them on my next trip. They totally worked!
How To Eat Healthy At Any Airport
Get the app! Apps are quickly making our lives all that much easier and more connected. There are now apps that will locate healthy menu options around you, even when you are in the airport! Here are 3 of my faves:

GateGuru – an app that rates and reviews restaurants in airports
VegOut – an app that finds vegan & vegetarian-friendly restaurants near you
GoodFoodNearYou – an app that finds that healthiest menu options near you

Plan ahead! You know you are going to have to eat, so plan for it! In a pinch, apps are great, but there is nothing like planning ahead. Google the airport you are visiting and check out what restaurants are available in the terminal you will be in. Then check out the menu and reviews of each option and pick at least 2 places just in case one is closed or full – it is always good to have a back-up!!!
Don't ignore the newsstand! If you are in a hurry, there are usually several healthy options at the magazine and newsstands that you pass. A water and a fresh salad or sandwich is far better than any of that fast food (and it is faster too!!).
Bring your own. I always travel with at least some healthy snack options. You never know what you might find when traveling so it is best to be prepared with some of your favorite healthy grab and go snacks.
Don't rush if it is not necessary. I get in the mode that I have to rush, even when I have a 2 hour layover and then I wind up waiting/eating at the gate with crappy fast food in a bag. I pledge not to do this anymore and I hope you do to! Take some time to indulge in a local meal or healthy salad, enjoy the journey!
What are your great tips for eating well at the airport?
Malibu Mama Loves Xx