4 Reasons to Eat Seasonal, Fresh and Local and How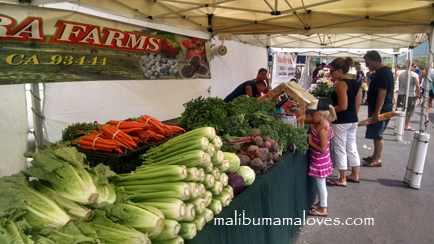 Eating fresh, seasonal and local seems to be the trend right now. Everyone is telling everyone to do it!
It is funny that prior to the early 1900's, it was common to base your meal plans around what foods were available within a short distance.
I think it is fantastic that we are getting back to that.
There are so many benefits from eating fresh fruit and veg when and where they are grown naturally.
Nature provides for us better than any man-made franken food from a lab will! http://t.co/gYLgZHGoqO #healthyeating #family

— Malibu Mama Loves (@MalibuMamaLoves) September 7, 2014
4 Reasons to Eat Seasonal, Fresh and Local (As Much As Possible)
Often times farmers markets are less expensive. When farmers are able to sell locally they save money on things like gas, packaging, and preserving (this one also saves our bodies as most preservatives are NOT good for us!) so they can charge less and make more which will allow them to make more fresh food available to more people.
The flavor is often better and the nutrient count is higher. When things are packaged and shipped they are often picked before fully ripe and then chilled (which takes some flavor away) and covered with some kind of preservative for transport. This can also strip away a lot of the nutrients in the fruit. Try buying a shipped in tomato and comparing it with a locally grown ripe one. You will see a huge difference.
You will get more variety. I was so surprised to find out what is actually grown in which season. Here is why I write local as possible (instead of just local), because even if a particular thing that you love is not grown locally to you, by finding out the season for it and only buying it during that time, it will taste better! I use the Eat Well Guide to find out what is seasonal in all parts of North America. If you pay attention and begin to eat what is in season, many new wonderful foods will present themselves to you!
To eat seasonal, fresh and local food is healthier. Many studies report findings that crops will have 3x more nutrients when grown in season. Also, if you can get them locally, they will not lose those vital nutrients from the travel process.
How to Eat Seasonal, Fresh and as Local as Possible Food
Find a Farmer's Market near you! My favorite guide to finding local farmer's markets is LocalHarvest.org so you can get your hands on all of your local fruits and veg – and I bet some amazing crafts too!!
There are rules to the farmer's market though so you will want to make sure what kind of market yours' is. If it is a "producer only" market then it is food that vendors MUST have grown or made themselves. If it is a "carrying" market then it vendors are allowed to carry and sell products made elsewhere (in which event you will want to find out where!). Also do not be afraid to strike up a conversation with the farmer themselves. Besides learning about where your food is coming from, you will also discover who your food is coming from.
Another great way to eat seasonal, fresh and local is to start your own edible garden right in your backyard. If you don't have the space to put them in the ground, start with a big pot. Even if it's small it will help you connect with the food. Growing a few things will help you appreciate what farmers go through. You will get to see firsthand that good food isn't necessarily picture perfect, and misshapen fruits and veg still taste amazing!
So don't be afraid to find out what is in season, find your local farmer's market and go experiment with something new today!! Also see my seasonal, fresh and as local as possible family meal plan. I will be producing our family meal plan on a bi-weekly basis starting in October using all seasonal items.
Then tell us all about it please! Share your new recipes or experiences with your local cuisine!
Cheers!
Malibu Mama Loves Xx
For more reading:
Gaiam
Everyday Health
Naturally Savvy
USA Today