How to Raise Happy Children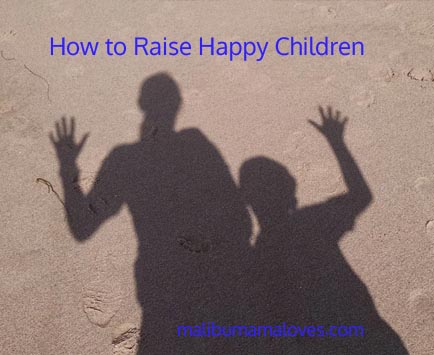 We live in a world that highlights performance with a constant demand for more. Stress overwhelms most adults in today's societies.
Science tells us that happier people out-perform unhappier people. They earn more prestigious jobs with higher salaries and have more success and satisfaction in their love life.
When asked what they want for their child's future, the majority of parents (myself included!) answer simply – For them to be happy and healthy.
So how can we raise happy children when we are so stressed out ourselves?
Here are 8 Steps to Raise Happy Children
First Step to Raise Happy Children –
Find YOUR happy! I know it sounds selfish but remember, your child wants to be just like you. What better way to teach them to be happy than by being happy yourself?! A great way to start is to take 5 Parent Minutes a Day, you can read about them here. Take 5 minutes to yourself each day to meditate and check in with yourself. Also check out Treat Yourself Well – 8 Simple Steps to Better Living. This is an easy to follow beginners guide to finding your happiness for parents.
Interestingly, there have been a lot of studies linking depressed parents with children who act out. So if you are feeling depressed please reach out, call a doctor and start the path towards YOUR happy. You are worth it, and so are your children.
Second Step to Raise Happy Children –
Praise correctly and let them do their own homework. This is something I struggle with as I am proud of EVERYTHING my children do. However, I know that over-praising can backfire so I must walk the line. It is important to give praise when a lot of effort has been put forth and a goal has been accomplished independently. Too much praise on day-to-day things might encourage your child to shy away from trying more difficult things as they are so comfortable in getting praised for what they already do. Basically – they become people who will not take a risk or try something new. By letting them do their own homework, and self-correcting it, they see that YOU believe they can do it so they believe THEY can do and so they will engage in new 'risks'.
Third Step to Raise Happy Children –
Make sure there is plenty of play time. Not extra-curricular sports or group play times. Just plain, old-fashioned play time. Where the child needs to use their own imagination to entertain themselves. This is invaluable in child development. Not only does free-play time encourage them to use their imaginations where the sky is the limit for creation, but it also teaches them independence while giving them a sense of control (they can control what they will do with their toys for the next x amount of time). This makes them feel happy!
Fourth Step to Raise Happy Children –
Show them how to have a healthy relationship. Unfortunately most of us are not born with a 'respect' chip in our heads! We must learn it. Your parents taught you and now you must be sure to do the same for your child. Teach them to respect themselves and others. Here is a great guide on how to raise polite children. Encourage your children to do small acts of kindness for others and demonstrate with your own marriage how to have a healthy relationship. Do your best to keep all adult arguments out of their earshot. But if they do hear, be sure to explain to them disagreements are a healthy way of expressing yourselves and re-assure your children that you love them (and each other) very much.
#Encourage your children to do a #RandomActOfKindness daily. http://t.co/1CTZirYmyj #BeTheChange #InternationalDayOfHappiness #parenthood

— Malibu Mama Loves (@MalibuMamaLoves) March 20, 2015
Fifth Step to Raise Happy Children –
Show them that the glass is half full! Ok, so you have a lot of lemons right now and that door just closed. But guess what, let's make some lemonade together and walk toward that open window right there. Having this attitude reassures them that they are not alone, that mistakes are ok and most importantly – it teaches them to get back up when they fall and TRY AGAIN. Life is about perception, if you teach this to your children young, you will set them on the road to success.
Sixth Step to Raise Happy Children –
Teach them how to deal with their anger. Everyone gets angry at some point in time. It is normal and natural. However, most parents are frustrated too and we forget that our children need to be taught how to handle their anger appropriately. So take some time to talk to your child and make a plan of what to do when they are angry.
Seventh Step to Raise Happy Children –
Create some family traditions. Whether it is a regular family meal time, a monthly pizza/movie night, a yearly trip. Plan some kind of tradition that the kids can count on, feel part of and look forward to. Science has shown us that this is imperative to happy children. 'A family that plays together, stays together' is so true and giving the kids (and yourself) some together time to look forward to can mean all the world.
Create some new #Family #Traditions today! http://t.co/1CTZirYmyj #eattogether #traveltogether #playtogether #parentingtips #happinesscounts

— Malibu Mama Loves (@MalibuMamaLoves) March 20, 2015
Eighth Step to Raise Happy Children –
Stop comparing them! Only compare them on how much they look like you or their other parent!! No, seriously, each child grows at their own pace, has their own unique value and is special in their own way. Verbally comparing how fast one sibling does homework – thinking it will get the slower one to finish faster – does not work – it is proven to actually slow the slower child down! Asking her why Suzy down the street can keep her knees clean from grass stains yet your child can't is not going to help ANYTHING. Actually, it deeply hurts our children. So I know you may be frustrated, but instead try being thankful that you have a hard-working, healthy, active child – I bet Suzy's parents are really mean…!!! Remember that perception I was talking about earlier…?!!
Ninth Step to Raise Happy Children –
Travel more! There are so many benefits to traveling with your children, the list is endless. Science supports that children who travel with their parents are happier! There is nothing more amazing than spending time exploring someplace new with your child, they can sense this happiness and mirror it.
What are your great tips to Raise Happy Children?
Malibu Mama Loves Xx
#InternationalDayOfHappiness