Le Village Café in Malibu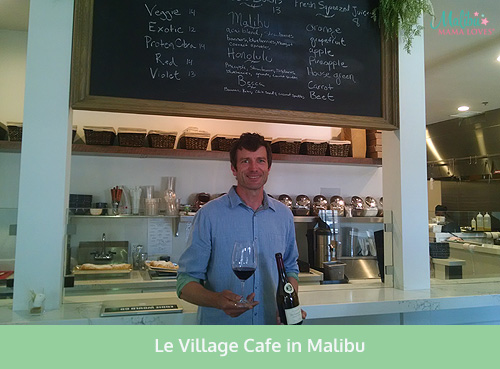 The newest member of The Trancas Country Mart family is Le Village Café Malibu and it is soooo good!
Recently, I attended a fun foodie event at The Vintage Grocers and afterwards, Le Village Café hosted us for a lovely lunch and wine tasting.
I enjoyed it so much that I want to tell you all about it. All thoughts and opinions are my own.
Where is Le Village Café in Malibu?
Le Village Café is located on the PCH across from Zuma Beach in the Trancas Country Mart. From the parking lot, you walk thru a grassy commons area to the left of The Vintage Grocers in Malibu and you will find this fantastic French restaurant.
The owner, Francois Clausse, is a veteran in the food and resort industry having developed more than 10 new restaurants and bars around the globe in addition to owning and operating a successful boutique hotel in St. Tropez.
Now, Francois is bringing his experience and exquisite taste to Malibu with the first Le Village Café to open.
What is Le Village Café in Malibu like and when is it open?
The atmosphere is relaxed and the décor is clean, classic European farmhouse chic. The entire restaurant is open and airy, with mouthwatering smells floating all around.
Whether you sit out on the enclosed patio or inside, you will be surrounded in calming colors and peaceful people who are there to help you enjoy an incredible meal.
Le Village Café is open for breakfast, lunch and dinner, 7 days a week from 6am to 9pm.
They use all local, organic produce and free-range meats. This restaurant is as farm-to-table as possible.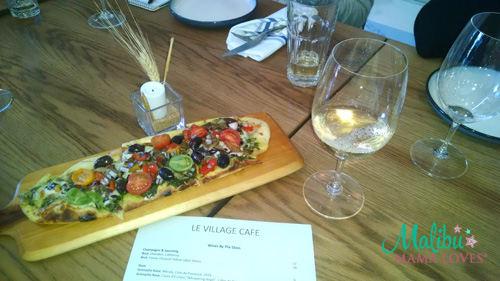 How is the food at Le Village Café in Malibu?
The food was delicious. We started off with some flat bread's that were outstanding.
For our main we had the trout with steamed vegetables. Being raised in New England, I can be pretty picky with seafood dishes. I have to say that this Trout was perfectly done. Nice and light, just how I like it, without all of the heavy oils and spices. The flavor was fantastic and the lightly steamed vegetables that accompanied it were delish! Clean eating at its finest!
Desert was next –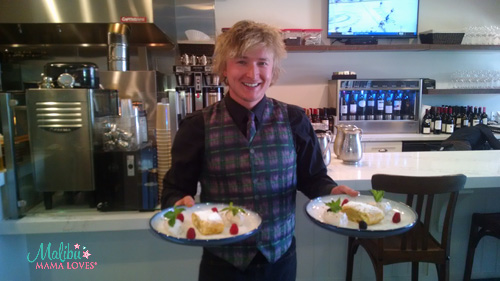 See that guy? Look for him when you visit next and ask for his streusel. He makes a few different kinds that are his own recipe and let me tell you…. It is like a little piece of heaven in your mouth!! I will bring my family back here just to eat this…!!!
How is the wine list at Le Village Café in Malibu?
Very good. Along with local labels, they have a very thoughtful list of wines that, when appropriately paired, will enhance your meal and experience there.
The staff is friendly so don't be afraid to ask for their suggestions!
All in all, I had a really great time at this restaurant. The food was great, the service was good and the atmosphere was cozy and welcoming.
I look forward to visiting again!
Malibu Mama Loves Xx