Parasailing with Island Water Charters on Catalina Island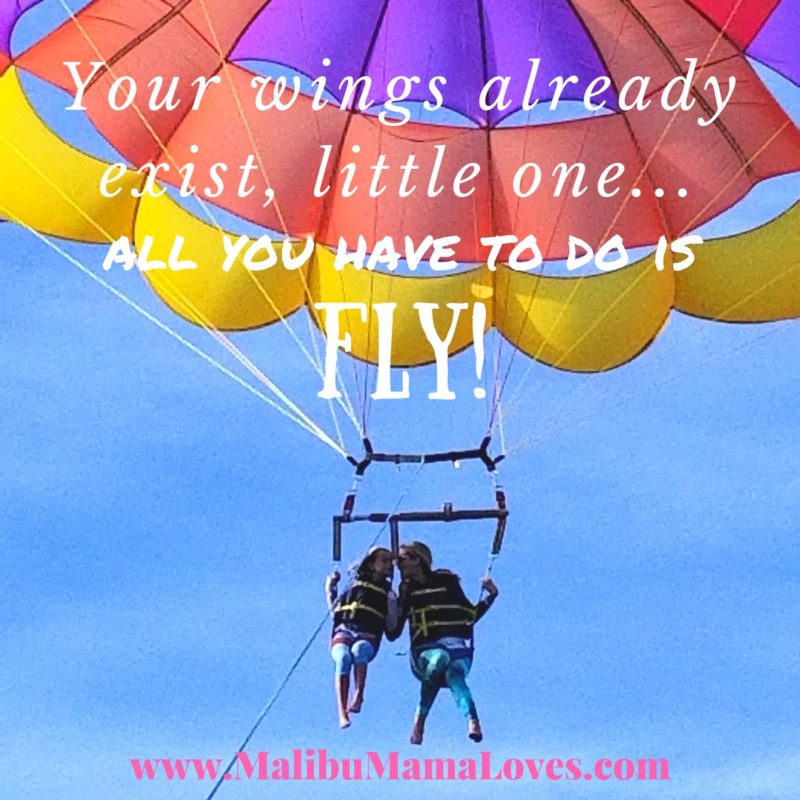 Every family trip needs to have a few elements of adventure to it! Stepping outside your comfort zone and trying something new is what living is really all about, right?!
One of the only fears that I have yet to fully overcome is my fear of heights. Being that I refuse to pass this on to my littles, I am constantly challenging myself to do what scares me.
When I took my daughter to Catalina Island for our first mother daughter trip, we had the opportunity to go Parasailing with Island Water Charters and I could tell my daughter was super excited and wanting to try it. So, I said let's do it!!
Our Parasailing Adventure with Island Water Charters on Catalina Island
We literally had minutes to get checked in, changed and over to the Green Pleasure Pier to make our reservation with Island Water Charters on Catalina Island. Thankfully, The Pavilion Hotel, where we stayed, is located right across the street from the Green Pleasure Pier so we were able to make it just in time!
We found the ticket window and were met by two nice gals that got us all checked in a ready.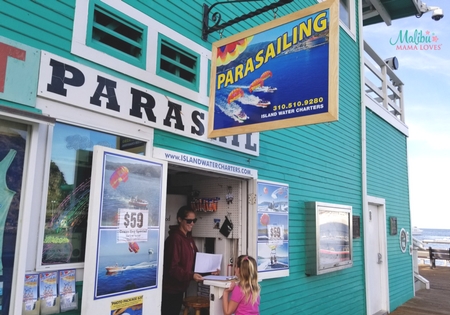 My daughter and I were super excited to get going, both a bit nervous but ready for an adventure in the sky!
Island Water Charters has been taking people parasailing giving them a unique perspective of Catalina Island for over 10 years now and all boats are coast guard approved.  Their staff is knowledgeable, kind and helpful. Up to 15 people can go at once and their rates are very reasonable (check here) and they will walk you through the entire process. 1, 2 or 3 people can Parasail at a time. They even have photography available!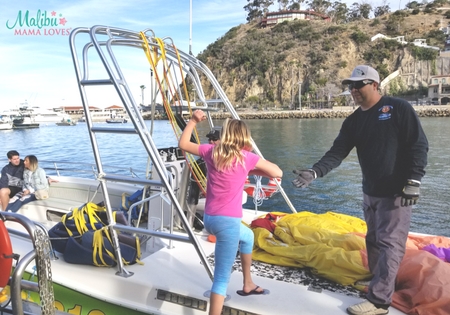 We boarded the boat and got going. It was a bit chilly, so we had on leggings, tank tops, t-shirts and sweaters, I fully recommend layers and bundling up is you go in the evening or early morning as it can get a bit nippy!!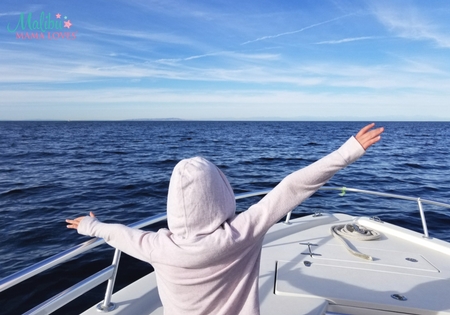 There was a captain and one crew member who was our guide. He explained how the parachute worked, helped us get into our harnesses and gave us specific take-off and landing instructions.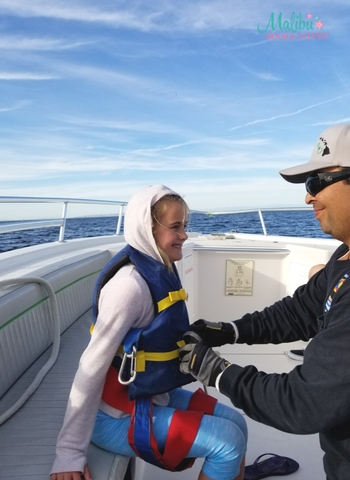 Once we were all harnessed in, he helped us onto the back of the boat, hooked us up and away we went! The crew member was kind enough to take pictures for me with both the company camera and my phone, and he got some great shots!!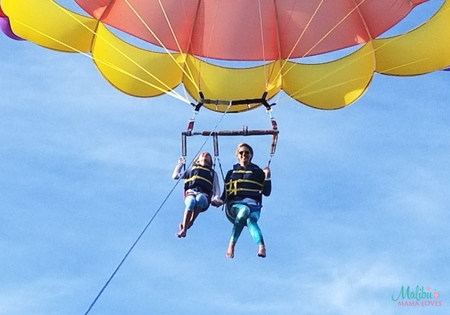 I could tell me daughter was a little nervous, I felt ok because we were over the water and because the crew member had done a great job making me feel safe and comfortable. So I reached over, put my hand over hers, told her to look at me, smiled at her and said "can you believe what we are doing right now?" and a huge smile erupted on her face.
As we went higher and higher, the views were breathtaking and amazing. You could feel the wind blow you a bit but it was a nice sway, calming and peaceful.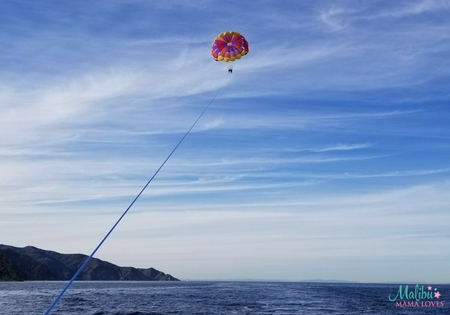 The harnesses were comfortable, the views were incredible and the conversation… one I will never forget, ever, for the rest of my life. My daughter and I talked about how anything is possible, we compared this island to the others we had visited, we talked about things she wanted to do, places we wanted to see all while seeing Catalina Island in a way we never could have, without Island Water Charters and their Parasail.
This was definitely a highlight of our trip. Watching my daughter go from nervous, doubting she could do it, to smiling and having the time of her life was awesome! If you needed an excuse to Visit Catalina Island, this is it!
Now it's your turn, head over and get started booking your Parasailing adventure now!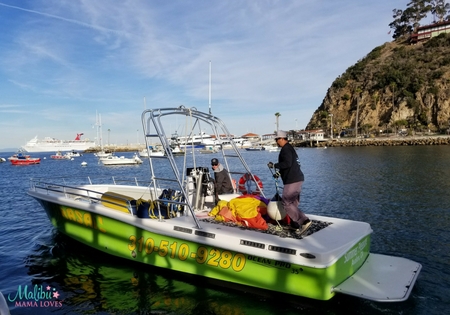 Cheers and Safe Travels!
Malibu Mama Loves Xx