This Sunday in Malibu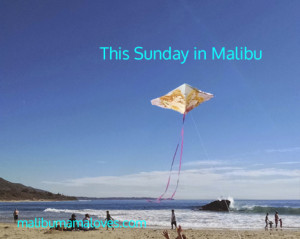 Sunday was a kite flying kind of a day here in Malibu! The weather forecast had us in the 80's so all other plans were abandoned and we quickly packed up for the beach.
Chairs, beach toys, towels, surf boards and food all got thrown into the love bus. There was a nice breeze out so hubby tossed the kites in too and off we went.
It was a lovely day of my favorite kind in Malibu.
There is something about being at the beach. Yes, I know it cleanses us of our EMF's and that the ocean does affect us in a positive way. But in addition to feeling good, everyone seems to always get along better at the beach.
We started off flying kites, then the kids wanted to go surfing so they grabbed their boards and went for it.
After everyone had eaten and played for a while we took a long walk together down the beach and made some rock shapes in the sand!!
On the way home we stopped at the Malibu Farmer's Market and got some amazing fish (fresh Sole) for dinner. Yum!
This is my favorite way to spend a family day in Malibu. Spending time with my family and making new friends at the beach; getting some delicious food at the Malibu Farmer's Market and eating dinner together are all the ingredients I need for a great day!
What is your favorite way to spend a Sunday in your town?
Malibu Mama Loves Xx