The Avalon Grille on Catalina Island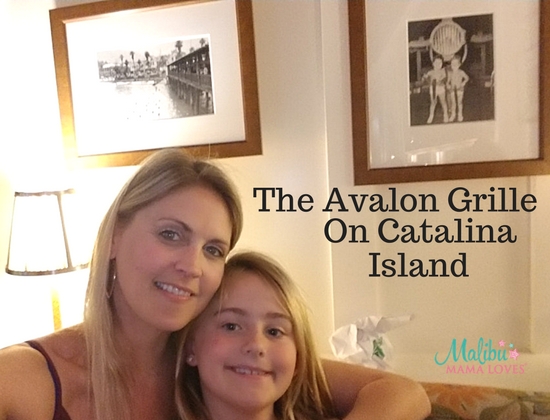 Located in the heart of Avalon, with incredible harbor views, sits a trendy restaurant serving delicious American cuisine. On our recent Mother Daughter Trip to Catalina Island, we chose this to be our first dinner spot!
We chose to eat at Avalon Grille because of their prime, central, location, excellent menu and we had heard it is one of the best restaurants in Avalon! We were super excited to try it! It was just a short 2 minute walk from our hotel so it was perfect for us.
Our Experience at The Avalon Grille on Catalina Island
We arrived around 6pm. I recommend you dress is stylish layers, it can be a bit chilly on the walk over yet is cozy and warm within the restaurant.
The Avalon Grille has a relaxed vibe with nautical décor offering seasonal dishes and an incredible wine and craft beer selection. The soft lighting made us feel comfortable, we were both so excited (and very hungry) to try the food here.
I ordered a nice glass of wine (Pinot Grigio) and my daughter had a Shirley temple! We cheersed and started talking about what we wanted to order. It all looked so good!
Share the love… pin this!!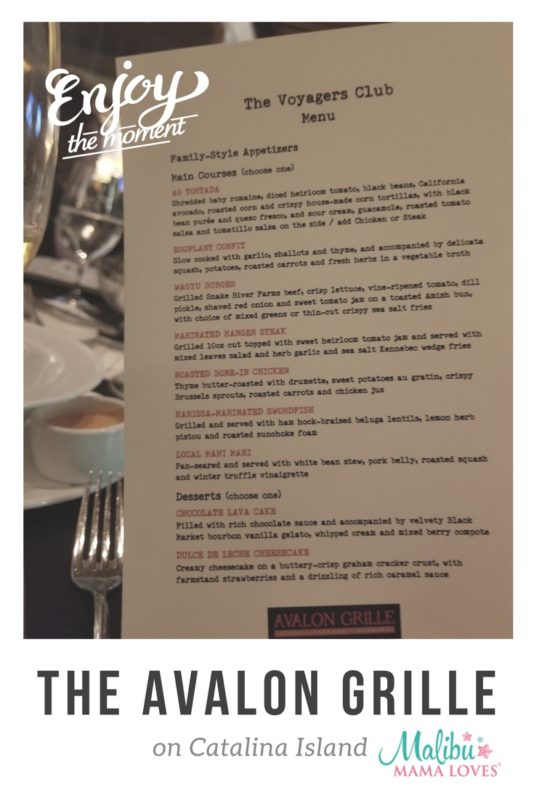 We decided on the grilled octopus, the flash fried green beans and the crispy calamari to start with. Each was light, tender and scrumptious. We found the calamari to be a little bit spicy for us, but the rest was incredible, we couldn't wait for our mains!
I was having the Harissa-Marinated Swordfish and my daughter was having the Local Mahi Mahi. The swordfish was served with delightful beluga lentils and a mouthwatering lemon herb pistou. The fish was cooked perfectly and served timely.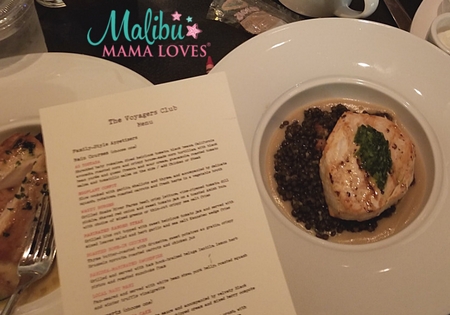 My little's Mahi-Mahi was served with a white bean stew that smelled divine. She really enjoyed it and ate every last bite!! The fish was tender, the stew was flavorful, and the service was very friendly and very knowledgeable.
We both ordered desrert, I mean it looked so good, we had too! I requested the Dulce De leche Cheesecake, while she asked for the Chocolate Lava Cake. Look how gorgeous…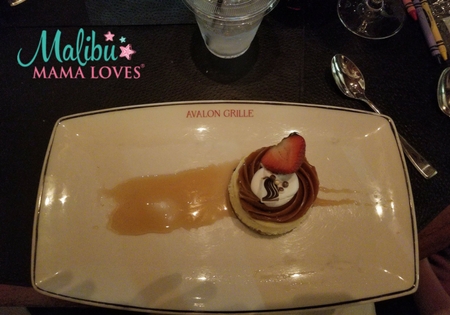 The deserts at Avalon Grille tasted divine and were such an absolute treat. We really did have a great experience there.
Why You Should Go To The Avalon Grille on Catalina Island
The staff, the lighting and the thoughtful menu all combine to make this restaurant a hidden little gem of happiness. The staff is kind, they know the menu and where the food comes from and are happy to help guide your experience. They all had smiles and made us feel very welcome. The lighting is kept low and perfect for stimulating excellent conversation in a relaxed environment where each person can speak as they'd like. We made lots of eye contact, laughed together and had a really good time talking about our day, the year we have had, how school is and what we were excited about doing tomorrow!
And the food… It really was incredible! Every detail thought of, each dish cooked to perfection with mouthwatering combinations.
We had such a great time, this restaurant needs to be on your must-visit list! Head over to Visit Catalina and start planning your adventure now!
It is sure to be a trip that you never forget!
Cheers and safe travels!
Lindsey