The Bluewater Grille on Catalina Island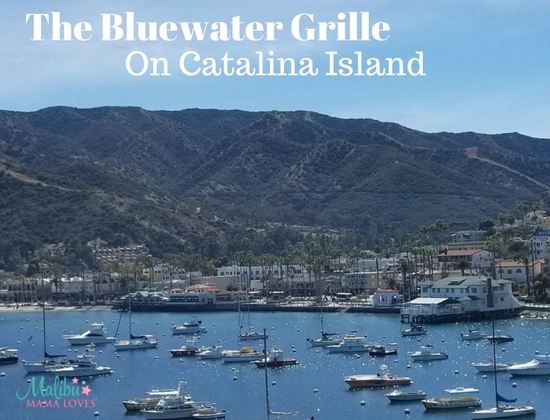 Sitting on the shore in the center of Avalon Bay right next to Pleasure Pier is a fun bar and grille with patio seating that is literally over the water!! The Bluewater Grille on Catalina Island is a fantastic lunch or dinner spot with excellent food, great service and breathtaking views.
On our Mother Daughter Trip to Catalina Island we chose The Bluewater Grille on Catalina Island for lunch because of it's convenient location, unique patio seating and the reviews of how good the food is. They offer the best in fresh, sustainable, local seafood with an extensive beer and bar menu. They have been voted the "Best of Catalina" and with a prime location, this should definitely be on your list of places to visit!
Our Experience at The Bluewater Grille on Catalina Island
It was a warm sunny day. We were coming from our Catalina Casino Tour, very hungry, and in a rush to get to The Island Spa for our afternoon appointments. We wanted good food, fast with a fun atmosphere and boy did we pick the right place!
We were greeted by a pleasant hostess who quickly seated us out on the patio. We could hear the waves crashing gently below us! My daughter was fascinated with how clear the water beneath us was and how much there was to see!
The vibe is very comfortable and the décor is nautical and fun. The staff all seemed happy to be there, the other guests all seemed to be enjoying themselves and there was so much to see and talk about.
Our server arrived with a smile and was very helpful in guiding us on what to order. We had our drinks within minutes and our food shortly thereafter. The Shrimp Ceasar salad looked so good, we both ordered one. And it did not disappoint.
The greens were fresh, the salad crisp, the dressing outstanding, creamy and tangy and the shrimp was perfectly cooked. It melted in our mouths and was the perfect pick me up to get us ready for our next activity!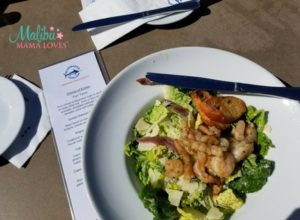 Plus it was super fun to see the fish swimming below us, and the different colored rocks and shells on the bottom. We had such a great meal and experience here, you must stop in next time you are on Catalina Island.
The Bluewater Grille has an incredible location, great sustainable food, has a knowledgeable staff and is totally unique to Catalina Island.
Check out Visit Catalina Island and get started planning your next family vacation to Catalina Island, it will be a vacation you all remember forever!
Malibu Mama Loves Xx