The Island Spa on Catalina Island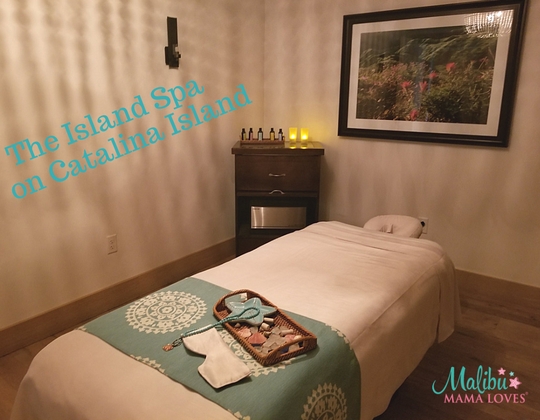 Spa days are one of my favorite days on any vacation! But this one was particularly exciting. We were on our first Mother Daughter Adventure to Catalina Island and I was going to get to spend the afternoon at The Island Spa with my daughter!
I. Couldn't. Wait. (Neither could she!)
The Island Spa on Catalina Island is located on the edge of town, a short 3-minute walk from The Pavilion Hotel down the main street in Avalon. They are the island's first ever destination resort spa offering a nice selection of treatments and rejuvenating therapies with intrinsic island botanicals. They have 9 warm and cozy treatment rooms decorated to relax and inspire, a hot sand therapy table, a beautifully curated spa shop, a café, a wellness studio with incredible ocean views, and a variety of outdoor experiential spaces including luxurious lounges, a soaking pool and hot tub and the vista deck.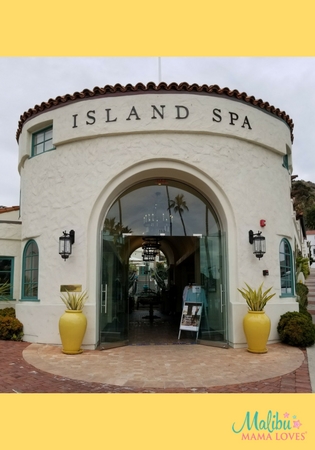 This place has everything you need to fully get your mind, body and soul aligned and on track.
Our Experience at The Island Spa on Catalina Island
The entrance was elegant, and takes you through their spa shop. We had fun looking around while they checked us in. My daughter was getting a pedicure while I was getting a Catalina Custom Massage.
We were escorted through the lovely courtyard, past the pool and lounges and into the women's room. It was peaceful, clean and gorgeous every step of the way. The women's room had a sauna, a steam room, bathrooms, several really nice showers, plenty of products, really cozy robes and lockers for your things. I changed for my massage as my daughter went in for her pedicure.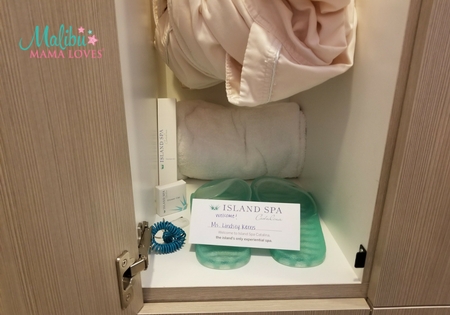 Once in my robe, I went and sat in the lounge while I awaited my massage therapist. I was given some spa water to drink and I sat in blissful silence (which us moms appreciate so much) for a few minutes. Jennifer arrived and introduced herself as my massage therapist. She was very nice and led me back to the treatment room.
I got comfortably tucked into the bed and she asked me several questions while blending some oils together. She then put a cloth under my face and told me to breathe deeply for a few minutes. I did and as I was breathing, I already began to feel some of my tension slipping away.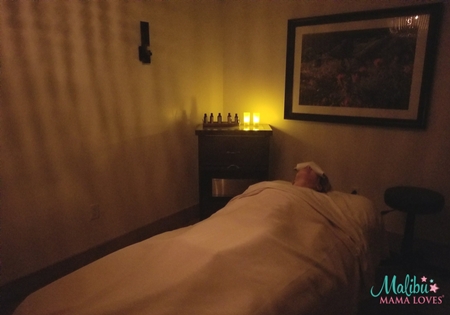 Then she began the massage and it was perfect. I was warm, I was relaxed, I was feeling so great that I never wanted it to end! But it did, it was time to go meet my daughter for a steam!
She had just finished as well so we walked back to the women's room, put our suits on and got into the steam room. I loved watching how grown up my daughter felt and how much fun she was having.
We then went out to the pool for a bit and layed on the lounge chairs, chatting quietly with each other. It really was so fun. Our bond was growing super strong as we opened up and talked to each other about school, work and life in general.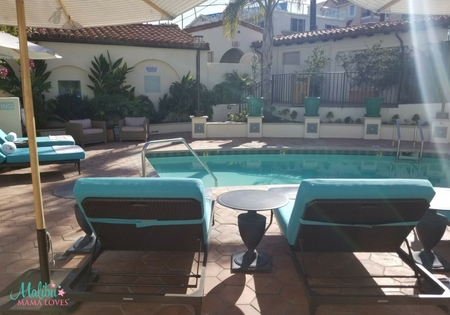 It was an experience I had looked forward to having since I found out I was pregnant with a girl. The Island Spa was the perfect spa for me to bring her to for her first experience and it was heavenly. The massage I had was one of the best ones I have ever had and the lounges and amenities here are outstanding. They have thought of every last detail to ensure that you leave feeling rested, peaceful and ready to take on the world!
We will definitely be back! Check out their menu here, what service would you like to try?!
Cheers and safe travels!
Malibu Mama Loves Xx