8 Reasons to Spend the Day at Descanso Beach Club on Catalina Island
On our recent Mother Daughter Adventure to Catalina Island, we discovered a trendy, quiet little beach club packed with fun activities, good food, fabulous people and incredible views. The Descanso Beach Club is just past the Catalina Casino in a little cove making it one of the last private beaches with public access. The water is crystal clear, the sand is soft and the vibe is all about relaxing and playing in the sun!
Descanso Beach Club offers snorkeling and kayaking adventures and is home to the Catalina Climbing Wall, Catalina Aerial Adventures, the Zip Line Eco Tour and a sweet gift shop. They also have a great restaurant with seaside service meaning you can sit at one of the tables in the sand or you can have it delivered right to your towel in the sand! So fun!
We arrived at 9:30 to do some kayaking. It was a short 10 minute, gorgeous walk to get there, just past the Catalina Casino.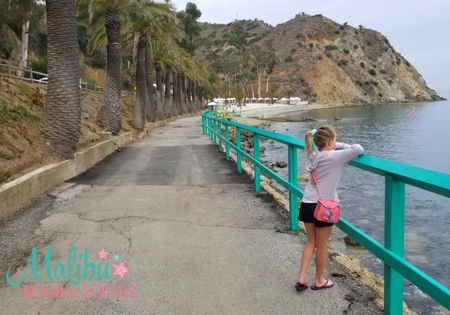 The staff was super friendly and helpful. There are lockers there or they have bins you can put your stuff in and leave behind the desk.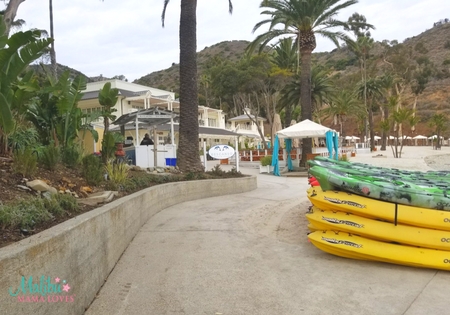 They checked us right in, got our life jackets and a dry bag (a bag that seals off completely for your phone, cameras and other things you want to bring out on the water with you), gave us our instructions, helped us down onto the beach with our kayak and sent us off!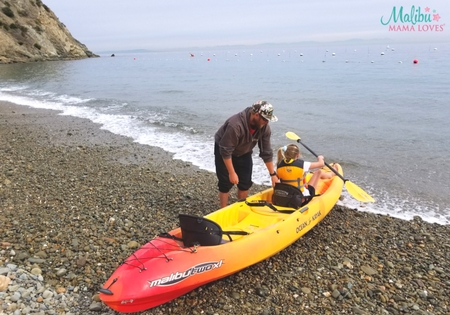 It was a peaceful calm morning and we had a blast paddling around the little cove. It was easy to get out and stay within the set parameters.  And coming back in… we caught a little wave and surfed right onto the beach! Talk about a very cool experience. There are so many reasons to spend the day at Descanso Beach Club, check out 8 of them!
8 Reasons to Spend the Day at Descanso Beach Club on Catalina Island
Kayaking here will give you a unique view of Catalina Island. You can paddle right up the Catalina Casino, back across the cove checking out the moored boats through the pretty rock structures and into the next cove. The views are incredible. There really is no current here so it is very easy to paddle around in, even for beginners. See Catalina Island by kayak gives you a more connected to the island feel.
The water is so clear! You can see so many fish, the rocks and shells on the bottom and everything in between! It is pristine (cold, but beautiful lol). Snorkeling here would be incredible, especially around the edges, we saw so much just from kayaking!
You can have a treetop adventure or zip line while at Descanso Beach Club! Catalina Aerial Adventure and Zip Line Eco Tour are located here and provide a challenging break to the water activities.
The restaurant has very good food and really fun drinks. AND they will serve you out on your towel or lounge chair or at one of the fun beachside tables making a day here super easy on us Moms and Dads! No stress of having to pack tons of food, they have a great menu sure to please everyone!
The relaxation. Being able to come to one place where they have something to keep every age happy + food, nice bathrooms and lockers is a huge stress reliever to every family traveler! Places like this let us parents relax and have fun with our kids and each other.
The views. It is a truly breathtaking location. In any direction that you look, there is something pleasing to the eye there. 
The bonding. From sitting together to build a sand castle, to kayaking or snorkeling or swimming or SUPing together, to challenging each other and ourselves on the rope course or zip line, to chatting over some food and good drinks while the waves quietly and continually kiss the sand… there are endless opportunities to talk and strengthen your bond with your loved ones at Descanso Beach Club.
To appreciate life. It truly is a luxury and a pleasure to be able to go to Descanso Beach Club where they have everything to make your holiday fun, easy and memorable forever. Spending a day here will help you appreciate all of the wonderful things this life has to offer.
We had such a fantastic time at Descanso Beach Club. Click here to Visit Catalina and discover all the adventure that is waiting for you at Descanso Beach Club!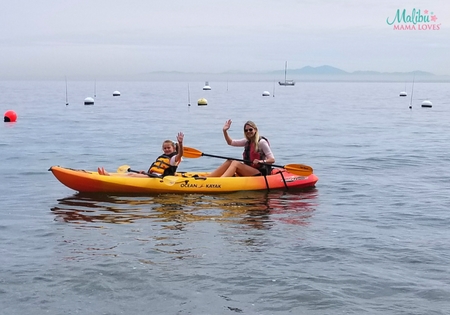 Cheers and safe travels!
Malibu Mama Loves Xx