Best Travel Jewelry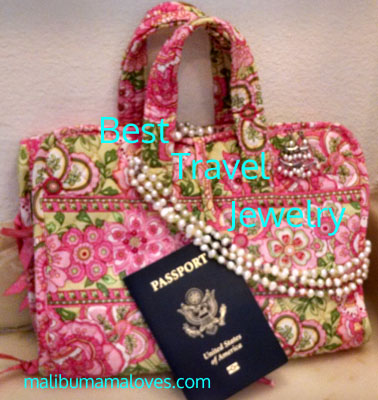 I come from a long line of jewelry lovers! Traveling without jewelry is not an option, much to my hubby's dismay!
Depending upon the trip, I try not to bring the expensive jewelry for travel. But if you do bring the bling be sure to keep it in a reputable hotel's safe.
Dinners on family trips are a great time to try out various pieces of jewelry with different looks.
It is fun to open up your jewelry box and pack things you have not worn in a while in addition to your current favorites. Please be sure to see how to pack your travel jewelry so hopefully none of it will get damaged in transit.
Packing Travel Jewelry Tip:
#TravelTips Invest in a good travel jewelry box & keep in ur carry-on, with u until u reach a reputable hotel's safe http://t.co/8EBkMa4Rrf

— Malibu Mama Loves (@MalibuMamaLoves) October 31, 2014
Here's the best travel jewelry to wear to the airport:
I wear a beaded necklace with no metal on it. A beaded necklace travel jewelry dresses up the outfit and takes attention away from travel wrinkles.
A cuff style bracelet travel jewelry that is easy on/easy off to go through security is another great way to add some shine to your travel outfit.
I usually wear pearl earrings for travel days. Mine have gold backings and I have never had to remove them for security so they make great travel jewelry.
Here's what travel jewelry I always pack:
As I am packing my outfits, I decide which pieces of travel jewelry will look the best. I try to leave some room for new pieces as I know I will most likely be purchasing some new jewelry wherever I am traveling to and I will want to wear it!
1 or 2 statement necklaces, depending on how long the trip is, to dress up shirts and for a night out.
1 or 2 simple necklaces, again depending on time, to wear during the day. I almost always bring a few strands of pearls that can be worn mixed together, with other pieces or can stand alone. Pearls are incredibly versatile and will dress up any outfit, day or night, new or old.
Bangle bracelets make great travel jewelry as they are so adaptable. Bring 2 sets for both daytime and nighttime wear!
Cuff bracelets are a great, easy way to add some style to your travel outfits, I always pack 1 or 2 of these.
I always pack too many earrings. I start off with two pairs of studs (great for daytime activities) and earrings for each of the nights – just in case you don't find any that amaze you while you are away! If you are traveling light, choose 1 pair of studs and 3 pairs for evening/dressier wear making sure they do not clash with your necklaces or bracelets!
Rings are a great way to add some bling to your ensemble and make great travel jewelry. I usually bring 2 – 3 rings to choose from. They are small and do not take up much space so bring a few! Keep in mind that you are traveling, it is probably best not to bring the most expensive pieces.
I love arm cuffs for warmer climates. Definitely throw one in if you are going tropical. Also toss in a toe ring and an anklet for some more sparkle!
Traveling is amazing! The pictures and the memories will be that much prettier with the addition of some well thought out travel jewelry pieces.
What are your favorite travel jewelry pieces?
Malibu Mama Loves Xx