Gaviota Hot Springs – A Conscious Family Travel Adventure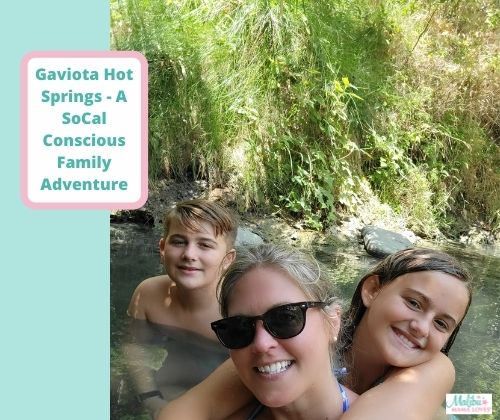 I love how healing travel, family travel, even day trips are! It is especially cool when you find a little hidden gem not to far away from you that provides an excellent opportunity for a family travel adventure like Gaviota Hot Springs!
Recently, my son asked me about The Gaviota Hot Springs in Gaviota, CA – just north of Santa Barbara. So it is not far at all from us down here. I did not even know we had hot springs nearby! I immediately set to planning a day trip to Gaviota Hot Springs to check this out, knowing it would be a great family travel adventure– on a conscious level!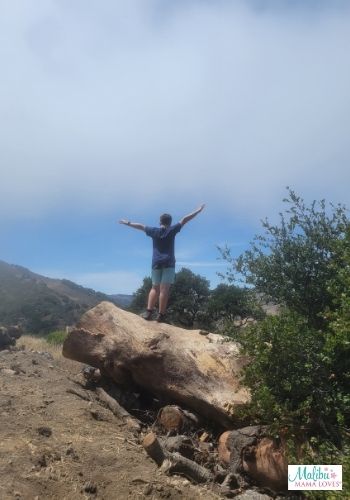 What is Gaviota Hot Springs?
Located just off the 101 freeway north of Santa Barbara, the Gaviota Hot Springs are natural pools of mineral water that are high in sulfer – so yes they are a little stinky – but oh so good for your body. You will find them, if you go the right way, in just about under 20 minutes from the parking lot. It is about a 400-foot beginner level climb on a nice wide, well-worn path.
Assuming you go the right way… Or you could be like us and miss the turn off, hiking nearly all the way to Gaviota Peak, an extra 500 feet of elevation… oh my!!!
There is a wide fire road cut in there a few turn offs to find the ponds, but once you find them, they are really amazing. The benefits of soaking in sulfer hot springs are many and said to include calming skin irritations and infections like rashes and eczema, help dry scalp, arthritic pain, digestive disorders and even calm menopausal symptoms. All from nature!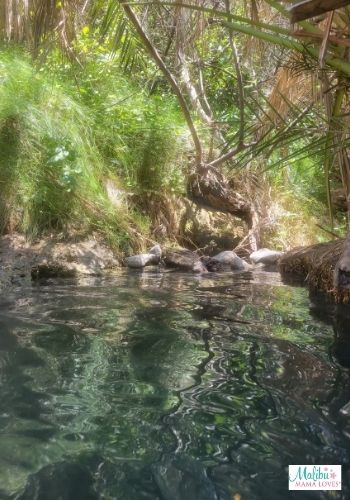 There are two hot spring pools in Gaviota. You can soak in either. Many years ago, someone cemented them so it is really clear where you can sit in them. Once you get used to the light rotten egg smell, these hot springs are nice and warm and refreshing after a hike. They are filled with essential minerals and vitamins for our body, nature provides them fresh from her in these hot pools and it is really amazing to be out in the woods, soaking in water that actually makes you feel good!
We soaked in them for about 30 minutes and the super cool thing is, I was not sore at all the next day and my skin was super soft! My daughter was the only one who put her head under, and her hair was really nice for days!!
These hot springs are for real, they are healing, they are very cool and they are super accessible. Read more about locating them here.

Our Gaviota Hot Springs Conscious Family Travel Adventure
It is about an hour and 20 minutes' drive from the LA area. We left early to beat the heat and hopefully the crowds, arriving at Gaviota Hot Springs around 10am.
I packed waters, extra sunscreen for after bathing, towels, extra socks and clothes for whatever gets wet, lunch, and we took a photo of the map in the parking lot so we could navigate – or in this particular case learn to navigate!! Yes, we took a few wrong turns and learned how to really read a map!!
It was so beautiful here though, we did not mind. And the extra exercise did us good and made us enjoy the hot springs that much more! We laughed a lot, we complained about the steepness together, we learned together and had such a great adventure!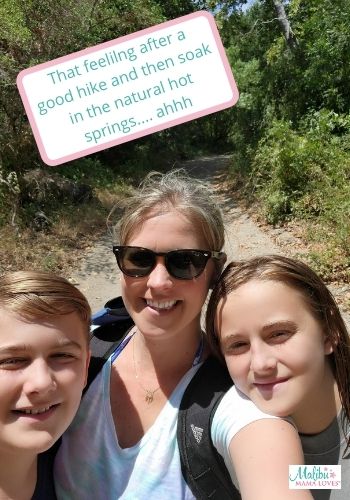 If you are looking for something fun to do with your kids, check out Gaviota Hot Springs! We arrived around 10 and left around 2. Ideally, without getting lost, I would plan for 3 hours here with kids.
You will have a blast!
Malibu Mama Loves Xx