How To Dress For Travel With Kids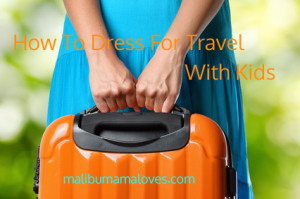 When you are travelling with kids, you need to be prepared for everything while still looking good! With a little bit of prep work this can be an easy task.
How to dress when traveling with kids is a little bit different than how to dress when you travel solo. Before you even start to think about clothes, take a few minutes and mentally prepare yourself for anything to happen during the trip – puking, pooping, tantrums, missed fights, all of the fabulous people who will tell you what you are doing wrong with your child (and hopefully a few who will encourage you along) – be ready for it and it will not be so bad when it transpires. Find your calm place and know that you will get there in the end and probably laugh about whatever hiccups occur on the journey later!
Here are 5 simple tips on How To Dress For Travel With Kids
Tip 1 – How To Dress For Travel With Kids
Think comfort & chic combined. Maxi dresses with a cardigan and a pashimina make a great travel day combo. The pashmina can double as a baby blanket, a pillow, a cushion for electronics while running through the airport, and can stylishly hide any spit/spill that lands on you en-route – I always travel with one! A trendy tee, a cardigan, a pashmina and leggings are another great combo. Consider the colors – check here to find out the best colors for travel. Stay away from anything tight or constricting as they can cause harm to you.
Tip 2 – How To Dress For Travel With Kids
Wear Slip-on shoes – and put them on your kids too! Slide-on shoes are the easiest way to go. Get a cute, comfortable pair that are super easy on/off and find some great ones for your kids to wear. They make getting through security lines sooooooo much faster and gives you a much better chance at running to catch that connecting flight!
Tip 3 – How To Dress For Travel With Kids
Think about your child's age. Are they still young enough where they pull on you? You may want to consider trading in the necklace for the trip and wearing a trendy scarf instead. Go with stud pearls for earrings in lieu of big, sparkly dangly ones that baby can try to rip out of your ear!
Tip 4 – How To Dress For Travel With Kids
Bring a big, stylish bag – no outfit is complete without one! You will need lots of room to carry all of the essentials – if you are flying, check here for some great tips for kids on a plane.
Tip 5 – How To Dress For Travel With Kids
Pack extra – for both of you! Just like you will pack some extra clothes that are handy at all times for your kids, be sure to pack some for yourself too in case the 'accident' is too big for even the pashmina to cover!
Family Travel Fashion Tip – How To Dress For Travel With Kids is all about the layers. Travel temps usually vary and by wearing layers, you can peel away things for warmer moments and bundle up when it gets colder!
Now it's your turn – what are your great tips on how to dress for travel with kids?
Malibu Mama Loves Xx
#FamilyTravel