Ollie's Duck & Dive in Malibu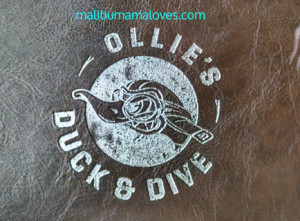 Tucked away in The Point Dume Shopping Plaza is Ollie's Duck & Dive restaurant, locally known as the Duck Dive.
Ollie's Duck & Dive kicked off this year with a new seasonal menu favoring local produce. They also have introduced quite a few scrumptious looking dishes on their menu.  So I was really excited to try it earlier this week (click to read why I like to eat seasonal and local).
Ollie's Duck & Dive was fantastic! The restaurant has a warm, welcoming feel to it and all of the staff were quite friendly.
I did not even make it past the first page of the menu before my mouth was watering! They have a portabella mushroom salad that sounded amazing! It was!
One of their specialties is the 'Duck Fries' and I could not resist trying them. Seriously, these 'Duck Fries' are some of the best fries I have ever tried!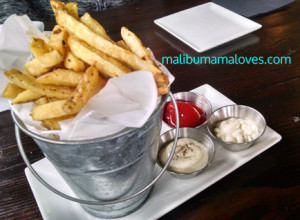 My friends that joined me each tried one of their protein bowls – unique to the Duck Dive and they were delicious.
The portions were perfect and I actually felt really good after I had eaten here! The menu is totally reasonably priced and affordable – making it a favorite local spot in Malibu. I also would feel totally comfortable bringing my kids to Ollie's Duck & Dive – and plan to!
I want to try the Tataki Tower ($10): This new Ollie's Duck & Dive dish features seared albacore tuna, avocado, green onions, Fresno peppers, cucumber, sweet soy sauce, Sriracha and micro celery next time I go!
Malibu Surfside News reports:
"The head chef Francesco Velasco…, who has worked as a chef in Malibu for seven years: 'I love the community here and I understand the necessity to have reasonably priced dishes with high quality in Malibu,' he said. 'It's important to understand what a community likes and wants . . . that's one of the reasons we changed up the menu…"
So whether you are local in Malibu, just driving through or planning a family trip here, be sure to include Ollie's Duck & Dive on your to do list so you can get a true feel for what people in Malibu really like to eat!
I ♥♥♥ Ollie's Duck & Dive! http://t.co/kCqISMLI8N #awesomefood

— Malibu Mama Loves (@MalibuMamaLoves) January 22, 2015
Malibu Mama Loves Xx