20 Ways To Travel Consciously in 2020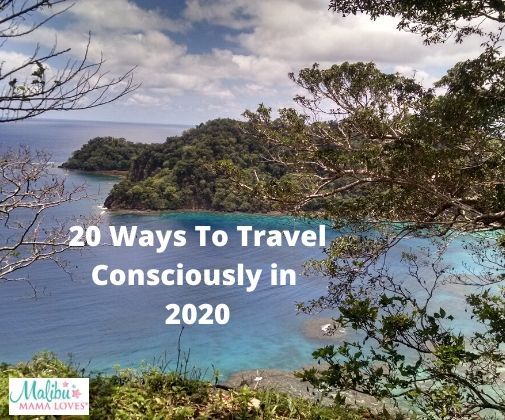 It's a new decade and one of the things hot on my mind is how to travel consciously now. I really believe that to stay on a conscious living path, you must travel. See the world, solve problems both for your community and others, experience all life has to offer, meet new people.
Being conscious incorporates awareness on so many levels. This is not just about reducing your carbon footprint, or voluntourism (a travel trend to volunteer while on vacation,click here to read more on voluntourism). Conscious travel is about being aware of how your travel affects the local economy, the people, the environment and the global community.
From start to finish, there are lots of easy, fun ways to travel consciously in 2020. It is time to take our travel to the next level, grow our consciousness, get packed and get going!
20 Ways To Travel Consciously in 2020
Balance your flights/driving/train/bus time. Let's just put it out there that flying is horrendous for the environment. That being said, for us travelers it is a necessary evil. There are a few things you can do though. Be conscious of it. Opt for a walk or bike ride instead of a cab. Offset flights with trains wherever possible.

When you do fly, look into carbon offset programs. These are donations you can give based on the amount of miles you fly to reputable programs that are taking on environment initiatives. Alexinwanderland.com published a great post on carbon offset programs – check that out here and google about it!

Go Paperless. There are so many amazing travel apps (read this post on my favorites) and in the age of smartphones, we really do not need to be printing out boarding passes, itineraries or other things. Opt for paperless!
Let your fingers do the walking! Use the internet to book your travel. Here are some great tips on that. But research research research!! The more you know, the more aware you will be, the more you can travel consciously.
Pick your destinations responsibly. Meditate and pray on where you should go. Research everything – make google your best friend (if it's not already lol). Choose a place where you can relax, grow, learn or contribute in some way. Define what it is you are looking for out of your vacation and go from there.
Stay locally. With the explosion of boutique hotels, AirBnb and local inns, opt to stay at the local, greener places rather than one of the huge eco-sucking hotel chains. Check the profiles on AirBnb to make sure it is a family or local person renting and not some huge property management company that bought up a bunch of properties to avoid hotel taxes.
Eat locally. Forget McDonalds (seriously, that place is out) and the big chains. Be adventurous and supportive of the local economy and try the mom and pop places. The food is better and knowing you are spending your money with the people who deserve it make it that much better.
Forget the local unethical attractions. At this point we all know that riding elephants, working for 2 weeks with orphans then disappearing when we go home and petting drugged up animals is bad… right?! There are so many good activities out there to be experienced and simple internet searches will help make it clear what is conscious and what is not. Just be aware.
Support local businesses however you can. Small businesses make the world go round, so be aware of this and spend your money locally whenever possible.
Think before you volunteer. Really make sure this is how you want to spend your vacation and that you are going with a reputable company. Read this post on voluntourism.
Discover Ethical Destinations. This is cool – each year Ethical Traveler has put together a list the top 10 most ethically developing countries. They take into account who is doing the best job of promoting human rights, caring for the environment, supporting social welfare to spark the community-based tourism for these countries. Check out the list and see if any of these destinations work for you!
Consider Animal Welfare. Why would you want to spend your money at a place where they are abusing animals? This abuse is a sad fact of life right now and the only way we will stop it is by hurting the people's pockets who profit from it. Be aware of this.
Pack Mindfully. I always overpack, making more weight and a bigger carbon footprint than needed. This year, I (and I hope you will join me) will make the effort to pack mindfully and bring only what is essential. Plus, I've decided, this leaves more room for shopping locally!!! Now that is how to travel consciously!!!!
Invest in new luggage. There are so many lightweight (which reduces the carbon footprint) out there, it is silly to still be using the 40lbs bag from the 80's!!! Get on board with some green travel!
Minimize your waste. Use travel size containers to fill with your products so there is less to carry and to throw away.
Unplug – Not emotionally!! Unplug all your stuff before you go. Tv's, computers, lamps, set your temperature low. Slow down all of those emfs while you are away.
Slow it down. Remember to plan some 'down time' while you are on vacation. We all need some time to relax, don't overdo it and come home more exhausted than when you left!
Look beyond buzzwords, ask questions. Greenwashing is everywhere, so don't get hyped up by reading about an eco-lodge or a sustainable hotel. Ask questions, make sure they mean what we think they mean…
Be aware of the social impacts. Take into account how the staff is treated and how they treat you and each other. How are the local people? Are the people in charge mindful of their staff and local help? Respect the rules.
Stay true to your values. One of my fave things about travel is meeting people of other cultures and learning. So it's important to make sure that everyone is accepted at where I am going. Are you finding people with disabilities or of different colors are not welcome? Is that really for you? In an age where many have become color blind, where most are focused on who you are not how you look or what you can't do, acceptance is important.
Look out for each other. Spread kindness and caring and love. That is how to travel consciously. If you see an animal being hurt by a kid, speak up. If you see a woman walking alone in a not so overly safe spot, keep an eye out. If you see someone in need, just help out. Because we can. Because we are all human. Because we all need each other.
Cheers and safe travels!
Malibu Mama Loves Xx
Share the Travel Consciously Love – Pin This!