Green Travel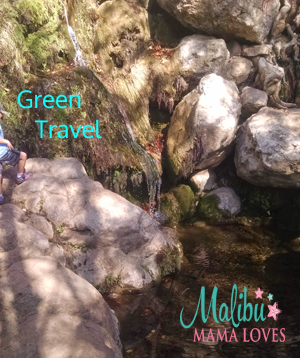 With April comes Earth Day, one of my favorite days that I like to celebrate all month-long! This year on Earth Day, I learned about something new – green travel. I had never heard this term before but leading the conscious lifestyle that I do, I had to check this out!
What is green travel?
Green travel is described as travel that has an awareness of socio-cultural, economic and environmental sustainability. It is also called ecotourism, sustainable tourism and responsible travel. Making sure that every bit of your business is given to companies that preserve the ecological integrity of the environment and are very involved in their local community development is a must for green travel.
Successful green travel will meet (and exceed) your needs without compromising the needs of future generations.
Why is green travel important?
Did you know that nearly 1 billion tourists are popping up in new places around the globe every year? That is an awful lot of carbon dioxide emissions from planes each year so it is important to be conscious and make changes where we can.
By taking a green approach to travel, you can easily care for the places you love to visit so that those who live there and those who will visit there long after you have left can enjoy it also. The reward to being conscious of green travel: green travel will enhance your travel experience immensely.
Is green travel more expensive?
No!! That is the cool thing, it may even save you a penny or two! You can find green travel options in all budgets – from rentals to luxury hotels. Then just be conscious while there, walk a few blocks instead of taking a car or try a bike instead. Buy souvenirs from a local artisan, I bet you will get more than just a souvenir if you take the time to talk to the artist…!! Eat at local restaurants and cafés instead of chain restaurants – and don't be afraid to let the waiter suggest something for you to eat, they know what their best dishes are! Buy snacks at a local farmer's market.
The 5 things to consider for green travel:
Mode of transportation – flying is necessary so we do our best to compensate for this when traveling. Consider walking or using a bike during your trip. If you rent a car, ask if they have a hybrid vehicle and take the train whenever possible.
Company policies – check the policies of the companies that you book travel/excursions/rooms with to be sure they consider environmental and local impacts.
Buy locally – make sure the local people benefit from you as much as you will benefit from them. Buy souvenirs from local artisans, food from the farmer's market and local restaurants/cafes. Be sure to tip everyone who helps you, for some people that is how they feed their families.
Consider environmental and local cultural preservation – choose a trip that helps conservation efforts for special places. Be sure to immerse yourself in the local culture and give back to it however you can. Learn their customs BEFORE you go and be respectful.
Be aware of natural resource use – Reduce, reuse, and recycle is applicable on holiday too friends! Continue to shut lights off, take shorter showers and recycle everything possible.
Luxury does not have to be sacrificed at all for green travel. Places like The Koro Sun Resort in Fiji offer luxury burres – check out their new ones pictured below, 5 star dining and trips into the local villages with a chance to meet and donate to the school children and to partake in village cultural festivities. You really get to meet the local people, taste the flavor of the village and feel the energy. It is an invaluable option.
The Intercontinental Fiji offers 5 star rooms, luxury dining, all of the excursions you can imagine and trips into their local villages with opportunities to partake in cultural celebrations, meet and donate to the school children and to help that community to grow. This really lets you get a feel for the true Fiji!
Green travel is the way to go on so many levels! I sense a post on Green Family Travel coming next…!!
What are your green travel tips?
Malibu Mama Loves Xx
#greentravel
Also check out"