A Chance To Be Brand New – It's 2022!!!!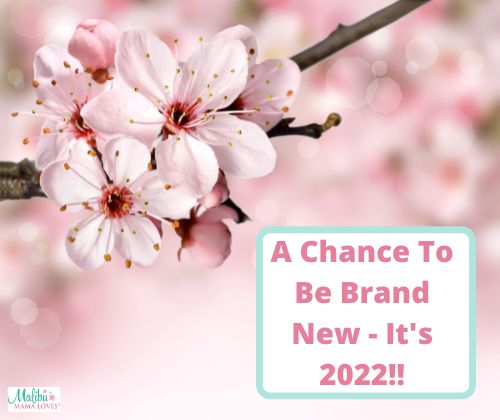 Happy New Year!! Finally it is here. A year that is sure to bring magic, a year that is sure to bring change.
We have all seen major changes in the last couple of years. The world is no longer as it once was and we have all had to make major adjustments. Covid has challenged us all in unique ways and forced us all to rise to the occasion creating new healthy, conscious habits and way of life.
It was a major adjustment to say the least. As you know, since 2015, I have been participating in the one-word new year intention practice and have been having so much success with it. Last year, in 2021, I chose the word communicate, because it is something that I was not great at.
Honestly, it is still a work in progress but the intention got me so far out of my shell and put so many incredible opportunities into place, that I know 2022 is going to be the year… the year it all happens… the year it all comes together – all the pieces will fall into place. For many of us!!
So this year, when it came time to pick my one-word intention for 2022, I knew it had to be a highly motivating word. As I looked back upon 2021, I know my communication got better, but circumstances that had been happening around me had me feeling like a doormat – I had such a hard time saying no!
I thought long and hard, considering that 22 is a big number for me – I was born on the 22 and the number seems to follow me everywhere. I meditated quite a bit over this and came upon one-word that can help guide me through all of the choices 2022 is sure to throw at me.
In 2022 My Intention is STRENGTH!
My one-word intention for the year 2022 is strength. For me, strength has multiple meanings. I find there is strength in standing up for yourself, being able to politely/healthily say no, surrendering, trying again, healing, writing, bonding with my family – there is strength in so many places once we choose to see it.
On Conscious Straight Talk With Katie & Lindsey we talk about the one-word intention theory, how to utilize it and share ours with you. Check out the episode here on Youtube and be sure to give us a thumbs up and subscribe so you can see our latest episodes first!!
Cheers & Happy New Year!!!
Malibu Mama Loves Xx