Welcome 2021!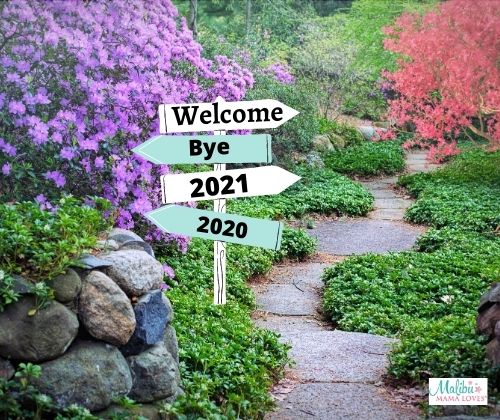 It's here, it's here, it's finally here!! 2021, a brand-new year!
Are you as glad as I am that a new year has started? Are you as excited?
2020 brought so much change, both devasting and positive.
Yesterday we said goodbye 2020 and to all of that. Looking back, my word of intention was acceptance. And once again I am astounded by how much one word chosen before the year began really and truly helped me focus my life and start to rebuild. I did so much work on accepting where the choices I made in life have brought me. On accepting that being on autopilot was not working and I had to wake-up. I think 2020 had a way of waking us all up, just a little…!! My eyes are now wide open.
Today, we lay out new goals and intentions filled with hope and good will. It is important to be realistic with our goals: in looking at where we have been, where we want to go and how to get there. I share great tips on goal setting here and once you have done that check out how setting an intention word helps you stay on track here.
Thepower of positive works and writing down the things you want to create in your life can and will help you make it happen. I like to do this every year. And today is the day!
I've been reviewing my journals and thinking about the year ahead. Now that I fully accept where I am at, it has given me clarity to know where I want to go. So after I set my 5 major goals for 2021, I meditated and prayed for a while on one word that would help keep me focused this year. Something I need to work on, that will benefit my life and those affected by it. A word that can be used in every aspect of my life – as a mom, as a partner, as a friend, a businesswoman, as a part of a community, as a daughter.
When I started this practice, I wasn't sure what to think but I gave it a try. In 2015 I chose the word believe. I had just started this website against everyone's advice and I had to believe I was doing the right thing – I grew to 64,000 readers that year…
For2016 I chose the word Leap. And wow, did I ever leap… I grew to 90,000+ readers and got my children and I out of a violent situation. I leaped and believed myself right into the light.
For 2017 I chose the word Trust. I knew I needed to trust in myself, the universe and God that everything would be alright. This word carried me threw some really hard times.
For 2018 I chose the word Resilient. I had been knocked down in 2017, funny, I was knocked down even harder in 2018, but I survived… I was resilient.
For2019 I chose the word Thrive. This had been the hardest year to date. I kept hearing this word in my head and knew this was a time of learning, rest and growth. That I would thrive in my knowledge, and I have.
For 2020 I chose the word Acceptance. I surrendered to what was and accepted everything. And you know what, 2020 (in the end lol) brought a lot of positive change for myself and my family. Threw accepting things, I know good things are ahead.
My 2021 Word of Intention
And for this year? I've come upon a word that is perfect for my intention for 2021. If you know me well, you know there is one thing that I have always been super bad at. Because I self-isolate when I am down. I withdraw. And even when I am up, I'm pretty bad with this one particular thing. Even my children complain about this for me and it 100% effects every single aspect of my life.
My 2021 Word of Intention is Communicate.
Communication is key to life. It is how we learn, how we grow, how we create, how we share, how we teach, how we change, how we become aware.
So this year, in 2021, I intend to answer my phone as much as I can, to call back within a very short period of time and to correspond in general in a much more timely manner.
Because together we can be the change that this world needs. And if we don't communicate, we can't be that change.
I can't wait to hear what your power word of intention is for 2021 – share in the comments! Let's communicate!
Cheers and Happy New Year!!
Malibu Mama Loves Xx