21 Reasons To Be Thankful In November 2021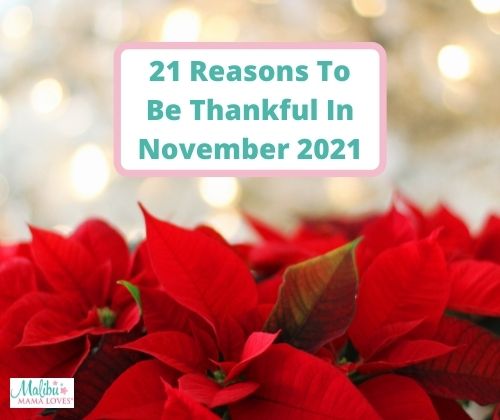 The holiday season is here, I LOVE this time of year! The decorations, parties, the foods, the drinks, the friends, the gift giving and generous spirit flowing everywhere, there are so many reasons to be thankful in November (and all year long!).
But along with all of the festivities comes a LOT of stress. The pressure to have everything just right can be overwhelming. The best way to overcome your stress is a mindset shift to being thankful for all we do have and all we can do.Focus on the positive! And November, the month of Thanksgiving, is the perfect time to call attention to everything we have to be thankful for.
So to kick off this holiday season, here are 21 reasons to be thankful in November 2021!
21 Reasons To Be Thankful In November 2021
Ourselves, our journey – yup, this at the top of my list this year! Take some time to appreciate the AMAZING True You and all you have overcome/gone through to get here, to this moment, this season of gratefulness. I am thankful for my journey.
Our partner – they may drive us crazy, but they also fill us with so much love. Focus on their positive characteristics when things get a little crazy during the holiday season because at the end of the day, they are always there for us in the way they can be. They catch us when we fall, carry us when needed and lift us up in every way they can.
Family – they laugh with us, cry with us, challenge us, celebrate with us and learn so many life lessons with us. No matter what, they are there and that is something to be thankful for.
Our children – they deserve their own mention because they truly our the lights of our world.
Friends and community – our chosen tribe to walk each day with, they bring so much color into our world.
Mother Nature – she just continues to wow us each and every day. Taking time to notice and be aware of all the mother nature provides us is an instant mood booster! Taking 10 minutes each day to look at something in nature – a garden or trees or bush/grass even, has been scientifically proven to lower stress in humans. Just as putting your feet on the earth for 15 minutes each day reduces your stress levels. I am so thankful for that!
Technology – we are so fortunate to live in a time when we can quarantine and yet stay so connected. Where we can work and live remotely. I am so thankful we can live at great distances and keep so close in touch with friends and family at the click of a button. I am so thankful we can share good information at the touch of a screen.
Mistakes – I am very thankful for my mistakes – the lessons I have learned from trying things the wrong way and learning how to do them the right way!!
Choices – we all have choices every day. I am so thankful that we can choose happiness, love, light, and fun over darkness and anger. We can learn to focus on the positives and embrace our strengths and weaknesses. We are fortunate to live in a time when we do have so many choices each day.
Grocery stores/farmers markets – I really appreciate living in a place and time where healthy, sustainable good food is so easily accessible. Especially during the holiday season and all those last minute forgotten ingredients!! We are so lucky to have such great access!
Art – I love the holiday decorations and seeing everyone's creative abilities. It makes me thankful for art – collectors, museums, artists of all kinds – and how it can stir emotions within you.
Netflix/Amazon/Disney+/Discovery+ – I think we all are thankful for this entertainment!! A night cuddled in my cozies with a nice drink and my favorite snacks can be heavenly!!
Travel – I appreciate, even with Covid Restrictions, how easy travel has become, how rewarding it continues to be and how exciting it is to look forward to.
Successes – taking some time to acknowledge and recognize our successes helps get us through some stressful times. Choose to focus on what you can do… I am thankful for all we can do and have accomplished.
Progress – running water, smooth roads, incredible buildings, community programs – the progress our communities make is mindboggling and a sign of all we can do when we work together.
Learning Institutions – schools, the internet, and libraries, it is incredible all there is to learn out there.
Funny cocktail napkins – they add such a laugh, sometimes when you need one the most!!
Love – on every level. It hurts, it heals, its messy, its amazing!
Life Experiences – the good and the bad. They brought us to where we are today. I am thankful I have found a way to turn my pain into purpose and help others do the same because of the experiences I have had in life.
Our Health – without our health, we have nothing. In this day and age we are surrounded with ways to stay on the healthy conscious path everywhere, I am so thankful for this awakening. You are part of it!
Each other – just as we are built to survive, we are built to connect with each other. I am so thankful for you, for those who have touched my life in various ways.
I encourage you to sit with this list and journal your own list of 21 things to be thankful for in November 2021. Get your mindset on the right path to kick off your holiday season, practicing gratitude is a great way to start.
Want to do it together? Join my next FREE masterclass running December 6, 2021 – click the button.
Get Started Healing Today
Cheers!
Malibu Mama Loves Xx