DVAM: A Healing Family Disney Date Night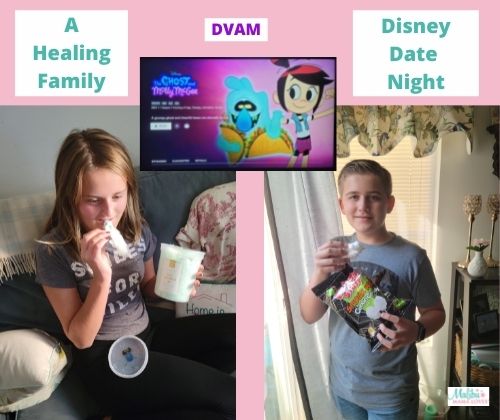 As survivors, it is an everyday process to turn our pain into purpose, all while raising our children and helping them understand too. We have to make conscious effort each and every day to relearn life through a safe and loving lens. Coming up with ways to help our children feel safe and secure, not to mention ourselves, is hard work.
Two things that build confidence for children are time together with your parent and consistency with a parent. I try to find and incorporate things that we can do regularly, that the kids can count on, and we can have some laughs, some smiles, a small break from reality together feeling safe and loved.
So when the Disney Channel contacted me about a new series, I created a Family Disney Date night that was awesome and even though that series season ended, we continued on in the tradition weekly with Disney movies on Disney+. You can read about how and why here. This night is all about our fave foods, cozy clothes and snuggles, laughing, talking and bonding together, they are some of our happiest nights now, thanks to Disney.
Our Disney Date Night
Imagine how excited we were to find out about literally one of the funniest cartoons that we have watched together yet – The Ghost and Molly McGee, laughs for all ages! There is a new episode to watch every Saturday night on the Disney Channel. It is about 25 minutes long, so we now start our Family Disney Date off with one episode every week.
My kids are a bit older now, so we weren't sure what to expect. But the premise is really sweet – Molly McGee is a tween optimist who lives just to make this world a better place by spreading joy and fixing everything that is wrong. She is played by Ashley Burch who bring so much life to this vivacious, curious and active young lady.
On the other hand, Scratch is a cranky ghost who lives to scare people, mess up things going right and spreading misery as far as possible. These two come together when a curse Scratch makes backfires and forever binds him to Molly. Complete opposites make for a really funny, warm, incredible friendship.
From Molly's big ideas to Scratch's one liners that leave you in stitches, this show does a great job raising everyday issues our tweens are facing with an element of comedy. We have only seen 2 so far and have had great conversations over the topics from The Ghost and Molly McGee.
Your Disney Date Night!
Ready to plan your own Family Disney Date Night? It's easy! Get you and your kids totally comfy in cozy clothes, get tons of blankets and pillows on the couch, make or order your fave dinner and the most delicious snacks and drinks you can find, gather together and let Disney entertain you for an evening.
Read this post on all the benefits a Family Disney Date night can be for your family.
We will be watching this Saturday night, will you?!
Cheers!
Malibu Mama Loves Xx