Conscious Straight Talk With Katie & Lindsey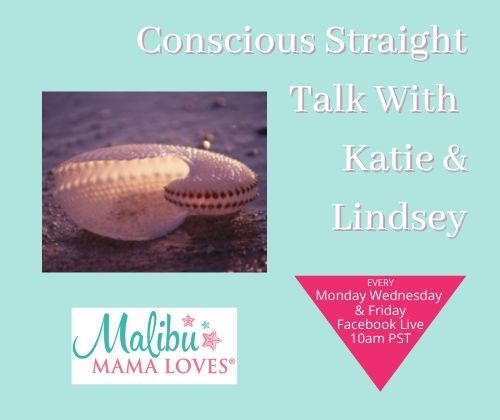 My team is growing and so to is our ability to spread and share healing! This holiday season is sure to be one that is never forgotten, and I am so excited to share with you our exciting news – more things to be thankful for!!
The amazing Katie Hutchinson, LMFT and I are teaming up to bring you an interactive live facebook straight talk show on everything conscious. As a licensed therapist with over 20 years' experience, she brings understanding and knowledge of disorders and relationships to my ways for creating change and transformation.
Why Conscious Straight Talk?
Being conscious, living conscious is best described here as:
"Conscious living is a lifestyle choice, a reconditioning of your mind, body and soul that permanently wakes you up to the wrongs and fake information that is swarming our society today and helps you make choices that will sustain life and bring happiness for generations. It is about researching and understanding where things come from, how they affect the environment and your body, how your words and actions affect others, making smart choices with your money, healing/understanding traumas and so much more."
From my post, you can read more about that here What is Conscious Living?.
As I was writing Therapist V. Life Coach, it occurred to me how well the two could work together. The therapist being the why and the conscious trauma informed life coach being the how.  So I contacted Katie, a brilliant therapist, and invited her to brainstorm with me on how we could powerfully help transform people's lives with what we have learned and created.
We decided to team up and offer my masterclass Treat Yourself Well: Consciously Awaken The True You together. We will create a safe space for people to come be, share information, explore life through a conscious lens and grow together – with a touch of humor.
And just like that Conscious Straight Talk With Katie & Lindsey was born!
Come join our conversation in this 10–15-minute interactive live facebook session where we will talk about many conscious topics, get through the holidays together and start understanding the why and how of healing on Malibu Mama Loves Facebook page (be sure to give us a thumbs up while you are there) Monday/Wednesday/Friday of each week at 10am PST.
Who Is Katie of Conscious Straight Talk With Katie & Lindsey
Meet Katie Hutchinson, LMFT. She specializes in depression, anxiety, personality disorders and couple's therapy. She helps clients gain a better understanding of self and how without even being aware of it, many of us recreate the same destructive patterns in life repeatedly. Through the process of therapy, she successfully helps clients break these patterns by getting to root of the problem through penetration of the unconscious.
Katie majored in psychology at UC Berkeley, and then earned her Master of Arts in Marriage Family Therapy at Pepperdine University. She has had an effective therapy practice for over 20 years now and is taking her power of healing to the next level with group treatment on Conscious Straight Talk With Katie & Lindsey!  You can read more about her here on Psychology today.
When and Where Is Conscious Straight Talk With Katie & Lindsey?
Conscious Straight Talk With Katie & Lindsey will be live on facebook at Malibu Mama Loves page each Monday – Wednesday – Friday at 10am PST. We invite you to come be part of our conversation as we have a new topic each morning that we are super excited to share with you and hear your thoughts as well!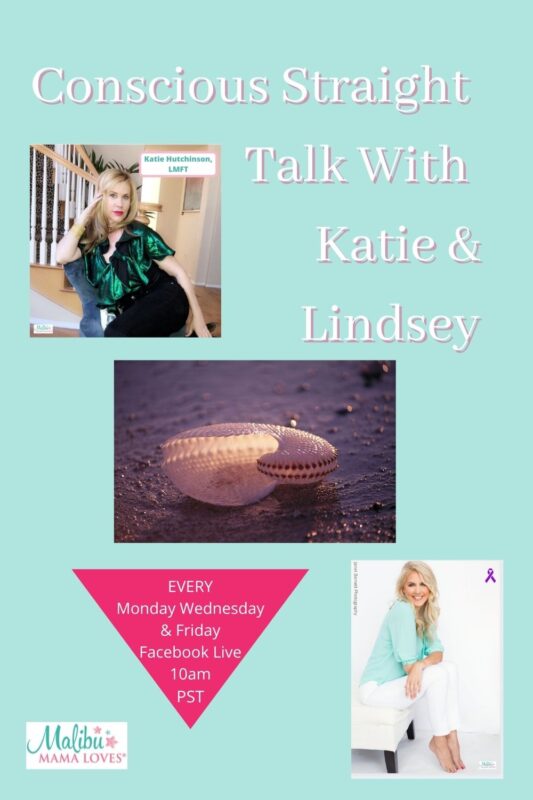 Pin this, sharing is caring!
Come learn, laugh, cry, get mad, laugh some more and most importantly GROW with us as we get through this holiday season and learn to turn our pain into purpose! Come meet us in our first event Monday November 22,2021.
Click this link to go right to the Malibu Mama Loves Facebook Page and scroll down to find our live session going!
We can't wait to see you there!
Cheers,
Malibu Mama Loves Xx
PS – Ready to join our powerful, transformative FREE 4-day masterclass running December 6, 2021 for 4 days complete with worksheets and instructions? Click that button and sign up now!
Get Started Healing Today!