Trauma Informed Coaching Certification With Moving The Human Spirit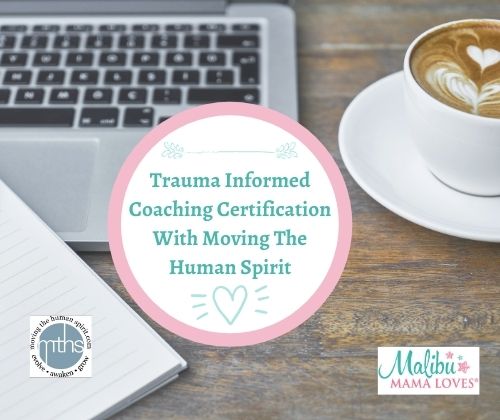 As I have continued on my journey with Moving The Human Spirit, I am learning, growing, evolving. The Trauma Informed Coaching Certification process has been so eye-opening, I want to tell you all about it.
I like to define trauma as a deeply disturbing/distressing situation or event that overwhelms a person's ability to cope, leaving a harsh imprint on their brain – changing how they perceive themselves and the world around them. It prevents one from being their true, authentic self.
More clearly, trauma can be defined as the experience from the survivor causing them to make changes that they would not have otherwise. The effects of trauma on an individual are a very tricky thing to spot, understand and diagnose as everyone's symptoms are unique unto them.
I have survived several different types of trauma, found ways to heal through understanding, community and travel and have used these experiences to help others heal. I knew it was time to further my education and upon googling trauma informed coaching, I found Moving The Human Spirit.
Why Get Your Trauma Informed Coaching Certification?
With more than 70% of adults having some form of trauma, no matter what type of business you are in, you will be encountering trauma victims who need understanding. Remember how I shared with you that 85% of our financial advancement comes from our people skills? Now, knowing that 70% of the people we must deal with (for the sake of making money to survive) have been involved in some form of trauma, doesn't it seem important to learn how to better understand and serve them? I think it is!
How Do I Get My Trauma Informed Coaching Certification?
2 Easy steps: 1. Email [email protected]!! 2. Enroll in the class and get ready for an incredible growing experience for 10 weeks!
My journey began with the Trauma Informed Coaching Basics class in which so many of my experiences and beliefs were reinforced – you can read more about that here, and my mind was opened up to new ways of coaching – that we are whole and resourceful, not broken. I formed some incredible friendships in this class and was instructed by people who really knew their stuff.
I then started the Trauma Informed Coaching Certification class, taught by Brad Hardie, moderated by Nadine Léger de Blois. I was excited to dig deep and learn more effective ways of creating a space for healing trauma, and more about the physical results of trauma.
I'll admit, when I printed out the 200 page workbook that goes with it, I became a little nervous… This course, with Brad and Nadine, takes us into the brain science of trauma, introduces new levels of listening and theories of neural pathways. I wasn't sure I could hang…
Pin this: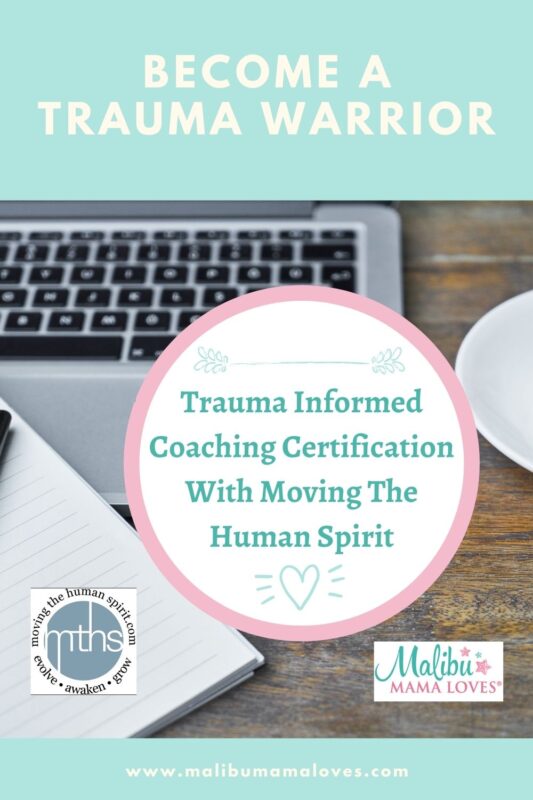 But I am ¾ of the way through and loving every second of this class. The students hail from several different countries around the world. Brad and Nadine have done an incredible job creating a space for us to learn, try new theories, have fascinating group discussions – all the while feeling very comfortable doing it.
I have a couple more weeks left until I am finished and can share my full review of this course. But I know they have a new class enrolling soon and I want to encourage you to check it out.
Continuing education, especially around groundbreaking trauma informed care, is always of huge value in your day-to-day life.Click here to check it out, Moving The Human Spirit is the only ICF accredited Trauma Informed Coaching Certification process in the world. I have so enjoyed their classes; I want you to know they have room for you to join one too!!
Let's be trauma warriors together and make this world that much safer and better!
Cheers!
Malibu Mama Loves Xx