What Is Unhealed Childhood Trauma And How To Deal With It Consciously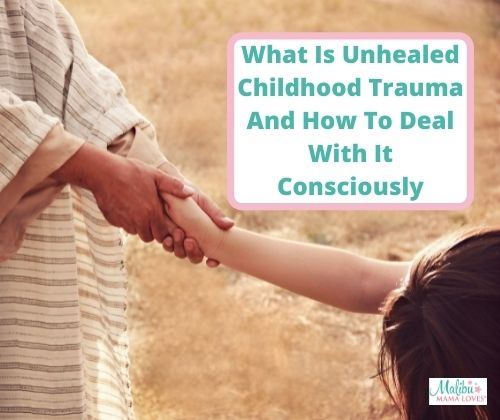 Unhealed childhood trauma is a very tricky trauma indeed, lying deep within our roots, creating many types of limiting beliefs and behaviors all through our lives – often without us even realizing it. But the truth is unhealed childhood trauma can be transformed in purpose, into learning how to make better choices and honor the true you.
What is It?
When we experience traumatic things in childhood, we often don't know they are traumatic or wrong – we learn it as part of the 'normal' process of life. We internalize it. Our cells record the signs/memories/feelings of it to be activated at any time in the future until it is addressed and rewritten.
Unhealed childhood trauma often stays subconscious, wreaking havoc within without us understanding for many many years – long into adulthood. It creates limiting beliefs within us that hold us back from achieving all that we are meant to. It creates behaviors, choices and reactions/actions that we don't realize we have control over. It locks our inner child away, in protection, and creates a false shield and sense of self.
Unhealed childhood trauma can be brutal.
How To Recognize Unhealed Childhood Trauma in Yourself Or Others
There are signs and symptoms of unhealed childhood trauma. They are:
Being on autopilot. You don't know joy or happiness, you just know what you are supposed to be doing and you do it. Some days you just can't do it and withdraw. Nothing brings you happiness or joy.
Trust issues. You may develop a serious lack of trust in anything and everything. Because you were never shown how to trust yourself and trust others always let you down, you are unable to form healthy trust boundaries.
Insomia, nightmares or extreme fatigue. I have suffered from insomnia my whole life! The only thing that helped was addressing my unhealed childhood traumas. These are all major signs and something that should be addressed. Sleep is super important to our mental health and well balance.
Avoiding social situations. If you were very social and suddenly can't bring yourself to be, it may be a sign of unhealed childhood trauma. Likewise if you have always shied away from social situations and gotten frustrated with yourself for doing so, this is a huge sign that you have some things you need to address, even if you don't want to.
Constantly in a hypervigilant state. Regularly being on guard no matter how safe the environment is takes a major toll on our bodies. Living this way is very damaging and definitely a sign that inner child healing needs to happen.
Anger, without really understanding why you get so angry.
Panic attacks, our bodies way of letting us know something is not right and we are out of alignment.
Having an addictive behavior is a way of hiding from past pain. Giving yourself something to obsess over, focus on so you don't have to acknowledge how hurting you are.
How To Consciously Deal With Unhealed Childhood Trauma
By bring our subconscious to our conscious, we begin to address our unhealed childhood wounds. Any trauma can be transformed with the right help, the right steps and the right conscious effort. It is not easy, it is a long a messy spiral up. There is no easy fix, but the fix seems easy once you are on the other side of it.
Getting educated about it is the first step and I think it is awesome that you are here. If you are ready to take the next step, sign up for our FREE masterclass complete with worksheets to jumpstart your healing and transform you unhealed childhood trauma pain into purpose. We come together in a safe space for for mornings, 45 minutes each and talk about what is going on inside you, rewriting some limiting beliefs and putting our new beliefs in place all with likeminded community.
The next one is starting on December 13, 2021. Click the button below to sign up now!
Join The FREE Masterclass Today!
If you know a loved one going through something, here are 5 tips to help you talk to them.
Open the conversation, try to get them to share their experiences.
Believe them. Say you believe them and validate their experience.
Understand them. Be understanding and as kind as possible. Ask if you can help them find help to get through this.
Do not be judgmental. Please, just don't. Listen with an open heart and mind.
Educate, learn together. Learn as much as you can – join our FREE masterclass above!
Remember that we all suffer at some point in time, it is ok to be honest about your feelings and to reach out for help. I will always be here for you. Contact me here!
Malibu Mama Loves Xx