5 Tips For Planning a Family Ski Trip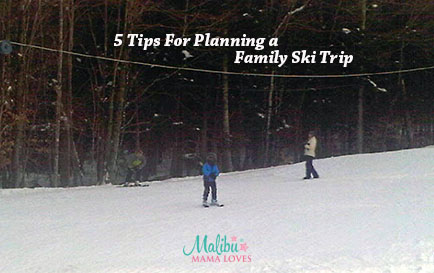 Ski season is well under way, for most parts of the country, and there is no time like the present to book a family ski trip!
Whether you are seasoned skiers or beginners, most mountains today have everything you need for that awesome family snow adventure, you just have to get there!
Planning a family ski trip is a lot easier than you think.
Here are 5 tips for planning a family ski trip
1. Pick a destination together. Use the internet to research mountains in the area you wish to visit. Make sure they have a reputable ski school, find out what their current and projected snow conditions are and check out your favorite travel blogs that have visited the mountain you are interested in going to for great, local tips.
2. Put together a budget. It is no secret that a family ski trip is very expensive. So decide how much you are comfortable spending and do your best to stick to it.
3. Decide on lodging. Skiing all day is tiring so where you sleep is important! Do you like Airbnb, resorts or hotels? I found this cool site where you can enter the area you want to visit, the date and how many people you are traveling with and it will give you all the different type of room/rental home options for that area. It is pretty awesome, check it out here at AllTheRooms.com.
4. Plan your route. How are you getting there? Car, plane, bus or train? If you are driving, be sure to check your route and road conditions ahead of time, driving into the snow can be tricky.
5. Buy your lift/ski school tickets early, online. If you need rental equipment, I would also reserve it early online. There are a lot of deals out there for people who pre-buy their tickets and rentals. Take some time to research deals on the internet at least a week (if not longer) before you go. Also check local blogs as they sometimes will run specials for their readers.
Done! Now all that is left is to get packed for a family ski trip, see how easy it really is?!
The Benefits of Planning a Family Ski Trip
Now that we see how easy it is to plan, here is why you should plan a family ski trip!
Build the family bond. A family ski trip is a great way to build a bond between parents and children. Learning to do something new together, something that you will always be able to do together really bonds a family. You know what they say – a family that plays together stays together…!!!
Boosts confidence. Not only in the kids, but in ourselves as well. There is nothing like coasting down a white, powdery slope with the love of your life and your kids, knowing they are having the times of their lives to make you feel alive and powerful! A real win-win!!
It is a great way for a family to unplug and exercise together. To get some much-needed fresh air together.
I love family ski trips. Some of my favorite memories of when my kids were toddlers took place on skis! The photo above is my son, age 4, learning to ski on his own. Dad on one side, mom on the other and sister, mimi and papa waiting at the bottom, we sent him off and guess what? He made it to the bottom. I will never forget the look of pride on his little face as we all cheered!
This year we will be taking a family ski trip to Big Bear, CA. We have never been and are super excited.
Are you planning a family ski trip? Where to?
Malibu Mama Loves Xx
#TravelTuesday
#FamilyTravel